Why Did Lorraine Pascale and Husband Dennis O'Brien Have Two Weddings in 2021?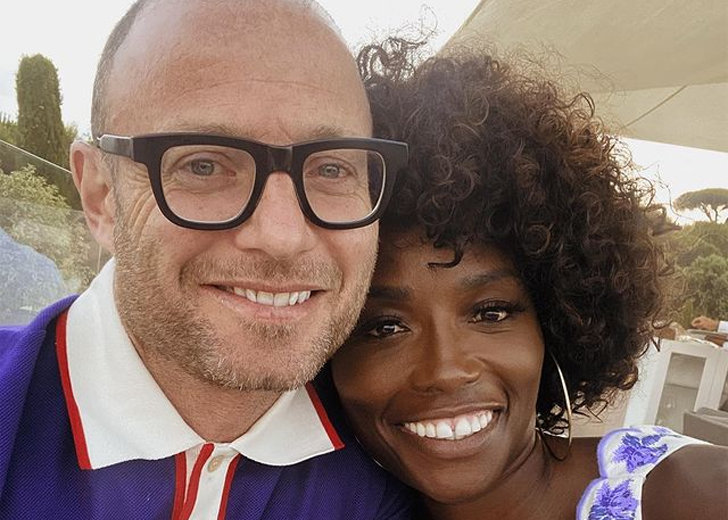 Lorraine Pascale initially married her husband, Dennis O'Brien, on June 26, 2021, at the registry office in London.
However, due to the lockdown restrictions, she couldn't invite all her friends and family members to participate in the ceremony.
Five months later, i.e., toward the end of October 2021, she remarried O'Brien during a grand ceremony hosted at the top of London's The Gherkin building.
The couple dated each other for three years before getting married.
Lorraine Pascale's First Wedding with Husband
Pascale and O'Brien met in 2018 at a gym but fell in love after her husband complimented Pascale on her car parking skills.
"Anyone who knows me knows that I love cars, so complimenting my parking was a good step towards winning my heart," Pascale said in her recollection.
On July 5, 2020, O'Brien proposed to her after inviting Pascale to join him for lunch in a London restaurant.
Unaware of his plans, she accompanied O'Brien but was surprised after being proposed by him.

Lorraine Pascale and her husband Dennis O'Brien smile after getting married during their first wedding ceremony. (Photo Credit: Instagram) 
Their wedding was initially scheduled for May 2, 2021, but was later rescheduled for the end of June, however, due to difficult circumstances, their plans did not come to fruition.
The frequent change in plans was down to the fluctuating COVID-19 restrictions, which affected the number of guests allowed in a private ceremony.
The couple ended up getting married at Chelsea Town Hall in front of twenty-eight people. Guests included her daughter Ella Balinska, whom she shares with her former spouse.
Pascale initially opted to wear a wedding gown designed by Prabal Gurung for her wedding at the registry office.
But, unfortunately, Gurung could not finish the dress on time, meaning she settled for a dress tailor-made by Vivienne Westwood.
"She's a great British designer and I love her stuff, so it was perfect," the professional Chef shared with Vogue.
Her spouse O'Brien hails from Liverpool, so as a good gesture, Pascale walked down the aisle to "You'll Never Walk Alone."
She said she would forever cherish the moment O'Brien turned toward her as soon as the song started playing.
Pascale's daughter, Balinska, who traveled to London to attend the wedding surprised her mom with the Prabal Gurung dress she previously intended to wear.
After receiving the gift from her daughter, Pascale couldn't hold her excitement and ended up wearing the dress for the reception lunch hosted at Beaverbrook.
Lorraine Pascale's Second Wedding with Husband
For her second wedding, the celebrity Chef wore a strapless white mini dress with a pair of Amina Muaddi pink slingback heels.
On the other hand, O'Brien fancied a white double-breasted suit jacket with a black pair of trousers.
And according to the Daily Mail, their guests also attended the ceremony wearing white outfits.
Later, Pascale took to her Instagram and expressed her wedding day joy, writing, "Loved celebrating our wedding properly."
In her caption, she reflected how their first "wedding numbers" were significantly reduced due to the restrictions.
Pascale, in a separate Instagram post, where she was seen with her daughter Balinska, humorously wrote how her "powerhouse of a daughter" gave her away."