Former Olympian Lolo Jones Still on the Hunt for a Boyfriend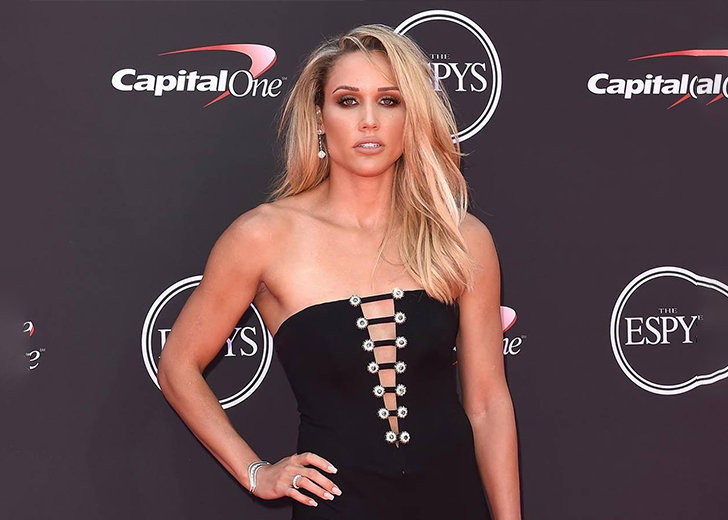 Lolo Jones is keeping count of days remaining for Valentine's Day. But the count isn't for February 14.
The count-keeping is actually for the day after Valentine's Day. Why, you ask?
All Jones wants is chocolates.
Lolo Jones Enters February without a Boyfriend
Jones isn't one of those to let her single status keep her spirits down for the month of love. Despite not having a boyfriend, Jones is still keeping track of Valentine's Day.
On February 1, 2022, the former Olympian took to Instagram to post a couple of mirror selfies with a PSA attached in the caption.
"14 days until Valentine's Day," Jones wrote as a reminder to everyone.

Lolo Jones at the BNP Paribas Open in October 2021. (Photo: Lolo Jones/Instagram)
Then, she penned a message for followers without a boyfriend or girlfriend. She wanted them to remember when they could get chocolates for cheap. 
"and [sic] for all the single people 15 days until all the chocolate goes on sale right after," she continued, adding a couple of laughing emojis at the end.
Jones wasn't just doing a PSA. She was also reminding everyone that she, too, was still single.
Her battle of trying to get a boyfriend or a long-lasting relationship has been a long, arduous one. And without much success, either.
Jones regularly posts about her relationship status and things she has been going through in her dating life.
For example, on January 31, 2022, she uploaded an eight-minute video discussing "the most embarrassing thing [she's] done."
In the video, she admitted she had sent a six-minute voice message to a guy as an answer to his short question.
Right after this revelation, she mumbled, "Lord help me, I'll be single forever" to herself.
Calling the act a "big time mistake," she confessed to having realized it right before making the video. She asked for people's opinions on whether it was a bad thing to do.
The comment section of the video was filled with people telling her to not overthink.
Some made jokes as well, saying things like, "I think the guy that got your "podcast" knew what he was signing up for when he met you" and "Send him a 6 minute apology."
Lolo Jones' Struggle with Singlehood
Jones's struggles with finding a boyfriend are well-documented. Her being a virgin has a lot to do with it, something she has admitted to on multiple occasions.
The 39-year-old track-and-field athlete has been looking for a 'husband material' for a long time. And she has been quite open about her abstinence in the meantime.
In 2012, while on Real Sports on HBO, she admitted that being a virgin made her dating life very difficult.
A devout Christian who's saving herself for marriage, she said that remaining abstinent had been "the hardest thing" she had done in life, including training for the Olympics.
She had tried every online dating service and even Twitter to find 'the one' but to no avail.
This continued to be a thing until years later.
In January 2020, Jones, during an appearance on Kevin Hart's show Cold As Balls, joked that revealing she was a virgin had ruined her chances of finding a boyfriend.
"That was a mistake," Jones quipped. "That killed all my dates after that — like didn't even have a chance. Like before, at least I had a chance."
But, as 2021 began, she had grown tired of the whole ordeal. On a "life rant" she posted on April 14, 2021, on her Instagram, she confessed to being bored of dating.
"I think after so many times of getting my hopes up that I will meet your person... you just get over it. You give up hope," the athlete wrote.
It had been easier to date when older, but she still faced some issues with guys. One of the issues was that she was having to pick between two qualities in guys — "two extremes."
She was afraid she was losing her "last prime year" of her life to find a husband.
Jones hasn't stopped trying to find a boyfriend yet, though, as evident by her podcast-like replies to guys.