Lili Reinhart Slams Kim Kardashian's Harmful Weight Loss for Met Gala 2022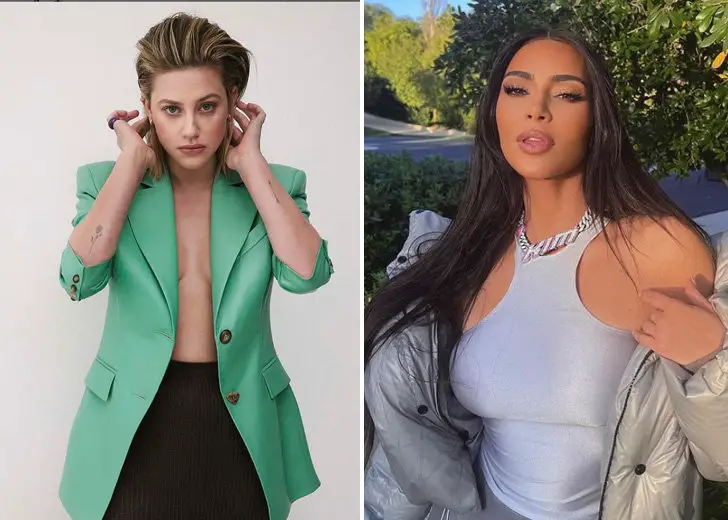 Lili Reinhart is not for starving yourself in the name of fashion.
The Riverdale star, who was not at the 2022 Met Gala, was not oblivious to what was happening on the red carpet. And she did not like what she saw Kim Kardashian was doing.
Kardashian openly admitted restricting her food intake to undergo weight loss and fit into a classic Marilyn Monroe dress, and Reinhart did not like that. She ripped into the fashion mogul's decisions to put harmful diet culture messages out there for her millions of followers.
Lili Reinhart Rips into Kim Kardashian's Weight Loss for Met Gala 2022
Reinhart took to her Instagram stories to share her thoughts on how she felt about the whole "Kim Kardashian starving herself" thing. And she did not hold back in saying what she felt was right in the matter.
"To walk a red carpet and do an interview saying how starving you are because you haven't eaten carbs in the last month … all to fit in a f–king dress?" the actress wrote in her first slide.
She called Kardashian's weight loss "so wrong" and "so f-ed up on 100's of levels."

Lili Reinhart's story criticizing Kim Kardashian's weight loss for the 2022 Met Gala. (Photo: Lili Reinhart/Instagram)
"To openly admit to starving yourself for the sake of the Met Gala," she continued. "When you knew very well that millions of young men and women are looking up to you and listening to your every word."
Reinhart called the fashion icon's act ignorant and "disgusting." She also urged everyone to stop supporting "these stupid, harmful celebrities whose entire image revolves around their bodies."

Lili Reinhart called for people to stop supporting harmful celebrities who perpetuate bad weight loss habits. (Photo: Lili Reinhart/Instagram)
Further, she equated Kardashian's actions with being toxic and admitted that it had gotten to her this time.
"I am generally not an angry person, but I swear to God the toxicity of this industry sometimes really gets to me," she said and had resorted to her "little Instagram Story rants" to let her frustration out.
Kim Kardashian's Journey to Fit into a Marilyn Monroe Piece
Kardashian first thought of putting on Monroe's iconic dress at the 2021 Met Gala.
"I thought to myself, what would I have done for the American theme if it had not been the Balenciaga look?" she admitted to Vogue. "What's the most American thing you can think of? And that's Marilyn Monroe."
She was really inspired by what she considered the "most Marilyn Monroe moment," when the legendary actress sang 'Happy Birthday' to late US President John F. Kennedy on his 45th birthday in 1962.
The dress became iconic not just because Monroe wore it but also because back in the day, no one wore sheer dresses. "In a sense, it's the original naked dress. That's why it was so shocking," Kardashian added.
The dress was sold at Julien's Auctions in 2016 for a whopping $4.8 million, the most expensive dress ever to be sold at an auction. And since then, it has been under the care of Ripley's Believe It Or Not Museum, which keeps the dress at the optimum 68 degrees and 40-50% humidity.
It had rarely been separated from its "muslin-covered dress form" and not worn by anyone else until Kardashian came along.
It was a long process, though. She first had to try on a replica, and it fit. So, the dress was loaned to her, transported by guards.
But, upon trying the original piece, with gloves on for the safety of the outfit, it did not fit. "when it didn't fit me I wanted to cry because it can't be altered at all," she confessed.
This was months before the 2022 Met Gala. So, she set out on a mission. She decided to undergo quick weight loss to fit into the dress.
She started a strict diet. "I didn't starve myself, but I was so strict," she told Vogue. She "completely cut out all sugar and all carbs, and just [ate] the cleanest veggies and protein."
The model also wore a sauna suit twice a day and ran on the treadmill. And after weeks of hard work, the dress fit like a glove.
However, she wasn't going to risk wearing the dress, an important piece of work in American history, for too long. She did not wear the original dress for more than a few minutes.
She had three replicas available to wear.
"I have a replica of the dress she wore to the Oscars in 1962," she said. "I think I might just wear that one to eat pizza in my hotel room."