Lil Wayne And Birdman Gay Rumors Stemmed From Their Infamous Kissing Video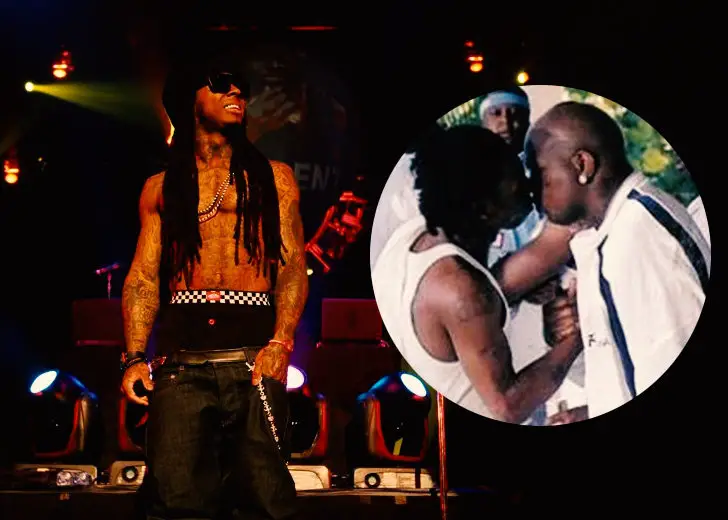 Gay rumors surrounded Lil Wayne and Birdman for much of the 2000s and 2010s.
The rumors began after the two kissed for the first time in Rap City in 2002.
Then, they kissed once again on BET's 106 & Park, resulting in the gay rumors gaining more traction.
Turk from Hot Boys, formerly associated with both Birdman and Lil Wayne, described the kiss as something similar to a mob-style kiss.
He also added that it was normal for the Cash Money Records (record label founded by Birdman) family at the time.
They're just like the mob, they kiss each other all the time… We all used to do that ****, that was an in-house thing. It was just a homeboy thing… [Now] I wouldn't do that ****, but back then we was young, it was all love. We had love for each other.
Birdman Explains Why He Kissed Lil Wayne
Wayne and Birdman's gay rumors received the most attention in 2006 when a picture of them kissing surfaced.
For a few weeks, the discussions of Wayne possibly being gay were the hottest topic in hip hop community.
Birdman later explained he thought of Wayne as his son, which was why he kissed the 'How To Love' hitmaker.
I always looked at Wayne as my son and I always looked at it like, 'cause I was in the streets, and I thought this might be the last time he ever sees me.' Cause I was living like that. That's what that shit really started from 'cause I thought that every night I leave, I might not ever come back.
Birdman further explained that he acted as Wayne's father figure since the rapper was 8/9 years old.
"I was his father when he didn't have a father since he was nine years old. And I love him like my own and I'd give my life for him and I'd take a life for him."
Birdman had taken care of Wayne since he was very young. As a result, the two bonded during Wayne's early years.
Wayne started spending time in Birdman's studio from the age of 11 and signed to Birdman's Cash Money Records when he was 12.
Lil Wayne And Birdman
Having grown as a music artist under Birdman's wings, Wayne and the record producer were incredibly close.
However, their relationship soured towards the end of 2014 when Wayne sued Cash Money Records for $51 million and a release from his contract.
The case came after Wayne's 5th album Tha Carter V was delayed twice.
Wayne made a series of tweets, saying he wanted nothing to do with the label and its people. 
"I am a prisoner and so is my creativity. I want off this label and nothing to do with these people but unfortunately it ain't that easy… my album won't and hasn't been released bekuz Baby & Cash Money Rec. refuse to release it."
Wayne and Birdman weren't on talking terms for the next few years, and Birdman described his spat with Wayne to be the thing he regretted most in his career.
The two later reconciled, and Birdman revealed he had visited Wayne on New Year's Eve to put their past behind them.
Birdman shared he asked Wayne how much he needed to pay the rapper to be done with their beef and Wayne asked for $30 million.
Birdman said he paid Wayne more than what he asked for by paying him $50 million.