Leyna Bloom on Finding Identity as a Child to Now Making Trans History
Leyna Bloom is a groundbreaking model who has become the "first" for many magazines and brands.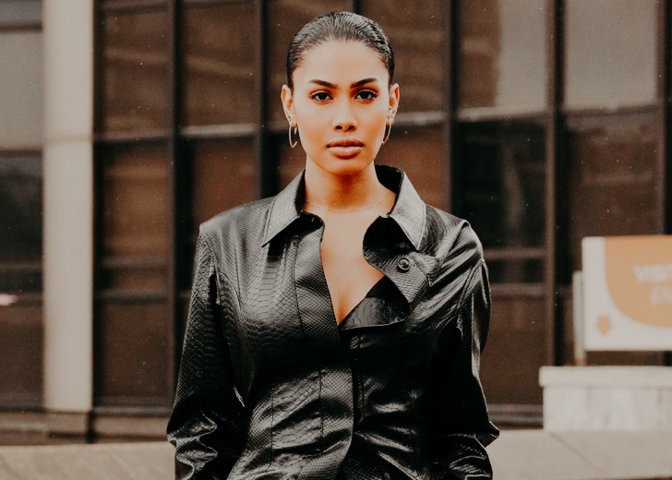 Leyna Bloom is a model, dancer, actress, and activist who has been making history for the past few years. The openly trans model is the new up-and-coming sensation who has been blessing runways, campaigns, and magazines. 
Bloom has been a "first" for many things. She became the first openly transgender woman of color to play the movie's protagonist at the Cannes Film Festival and feature in Vogue India. 
Similarly, she was the only transgender model to walk at Paris Fashion Week for Fall/Winter 2019 at the Tommy Hilfiger x Zendaya fashion show.
Recently, she made history again by being the first openly transgender Asian-American and Black model to grace the cover of Sports Illustrated. She was on the cover of the July issue. 
Bloom has become a unique name in the modeling industry, but life was not always easy for her. She had a tough childhood which taught her to be strong and made her who she is today. 
On July 20, 2021, Bloom sat down with Tyra Banks and talked about her journey from dealing with homelessness as a child to becoming a force to be reckoned with. 
From Homelessness to Transitioning 
Bloom is the daughter of a military veteran and Filipino woman who met each other when her father was posted in the Philippines. The pair fell in love, and as a result, Bloom's mother immigrated to the USA. 
They came to South Chicago and gave birth to Bloom and her brother. But, unfortunately, Bloom's parents' marriage was not that good. 
They used to fight, which caused tension in their family. In addition, they were homeless for a while and had to move around a lot. 
Moreover, Bloom's mother was deported at the same time. Amidst all the chaos, Bloom navigated her identity.
Fortunately, her parents were exceedingly supportive. Before being deported, her mother knew the model was special. 
She told her husband to take care of their baby and protect her at all costs. And that is exactly what he did. He had little knowledge on the topic, but regardless, he was always there for his daughter. 
He always allowed Bloom to express herself and was with her throughout her transition process. In an interview with Byrdie, she dubbed her father as her "role model" and "superhero." 
She reminisced about her past and said that he would always take her to a casting or an audition. Similarly, after her performance, he would be there for her and congratulate her with flowers. 
Through her surgeries and transition period, he took care of her and paid for her insurance. With all the devotion he has shown to his daughter, Bloom made him proud by taking him to her first red carpet, and her debut movie, Port Authority. 
When I got my surgeries, we took a plane together to Thailand, and he took care of me. When woke up from surgery, he was right there holding my hand.
Leyna Bloom on Making History 
South Chicago was not the place for Bloom to flourish. It was only when she moved to the North Side of Chicago she found her spot. 
She found her people and was divulged into the LGBTQ+ community. She always wanted to be a dancer and even got a scholarship to the Chicago Academy for the Arts. 
But, the school did not recognize her as a woman. As a result, she moved to New York City, where she finally felt "beautiful."
She was influenced by supermodel Banks, especially her show, America's Next Top Model. With the help of the reality show, she learned how to be a model and how to compose herself in front of others. 
Similarly, she was also influenced by fellow model Isis who was brought to the limelight by Banks. Bloom knew she wanted to belong to the modeling industry and fashion and worked hard.
Now, she is one of the groundbreaking models to date. Since the beginning, she has strived hard to be where she is, and the rest is history.