A Look Back at Leanne Ford and Erik Allen's Impromptu Wedding
Leanne Ford and Erik Allen enjoyed every second of their wedding, which was planned in four days.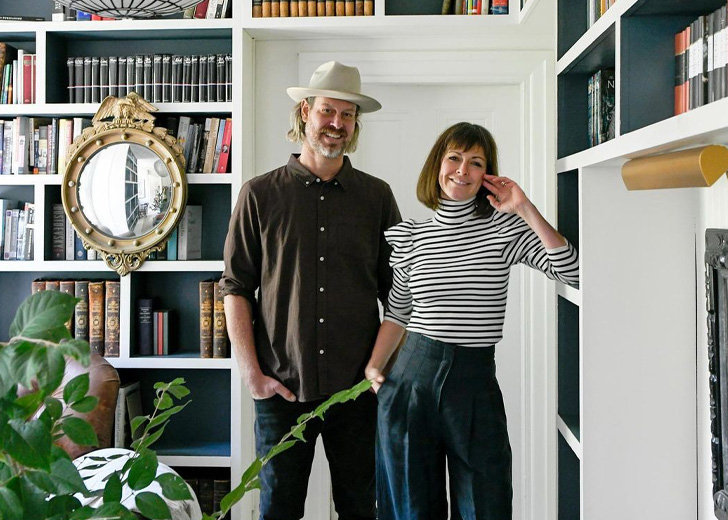 Fashion-stylist-turned-interior-designer, Leanne Ford stormed into the HGTV scene alongside her brother with Restored by the Fords.
Since then, she has starred in A Very Brady Renovation and Rock the Block and continues to captivate fans with her natural-minimalist aesthetic and unique designs. Throughout her career, she has helmed the renovation and decoration of plenty of spaces. 
But the only time she let someone else take the reins was during her impromptu wedding, which she revealed in her book, Work in Progress. 
Shortly after their engagement in November 2017, Ford and her then-boyfriend, now-husband Erik Allen, stayed at the Bowery Hotel in New York City when they decided that they could not wait another year and wanted to get married that instant. 
They called the front desk and told them they wanted to get married four days later and informed their families of the decision. Ford did not want to "work" on her wedding day and allowed Allen to handle everything from picking out the menu to booking a room. 
All the essential things from their cake, floral decors right down to Allen's outfit were sourced from the corner shops around the hotel. Ford shared that an impromptu wedding was definitely the way to go for her.
People get so caught up in the event that they don't get to enjoy it. We really got around that. I was present every second.
Ford and Allen's Love Story
In her book, Ford also revealed how her relationship with Allen started. She revealed that she first met Allen in 2015 during a backyard bonfire she hosted for a few people.
Although the couple has different views on when they started dating, it wasn't until a year later the two of them went public with their relationship.
In March 2016, Allen uploaded a black-and-white photo of Ford on Instagram, and a few months later, in May, the interior designer followed suit, sharing a picture of her then-boyfriend.
During the two years of dating, the duo worked on different projects together. Ford helped Allen design his stores for Buck Mason, the menswear brand they co-founded together in 2013. 
After that, Ford used her skills to help decorate his home, which she revealed brought them closer. Fast forward to November 2017, the couple got married spontaneously and honeymooned in Fiji.
A year later, the happy couple announced that they were having a baby girl. In an interview with People, Ford revealed that she always thought that she would have boys, but upon learning she was having a daughter, she got emotional. 
On March 18, 2019, they welcomed their daughter, Ever Allen Ford. The new parents shared a photo of their happy family and thanked everyone for the well wishes.
Despite their busy schedules, Ford and Allen ensure to spend time with their daughter, evident from the many photos Ford shares on her Instagram.