Lea Thompson's Daughters' Pursuing Family's Vocational Footsteps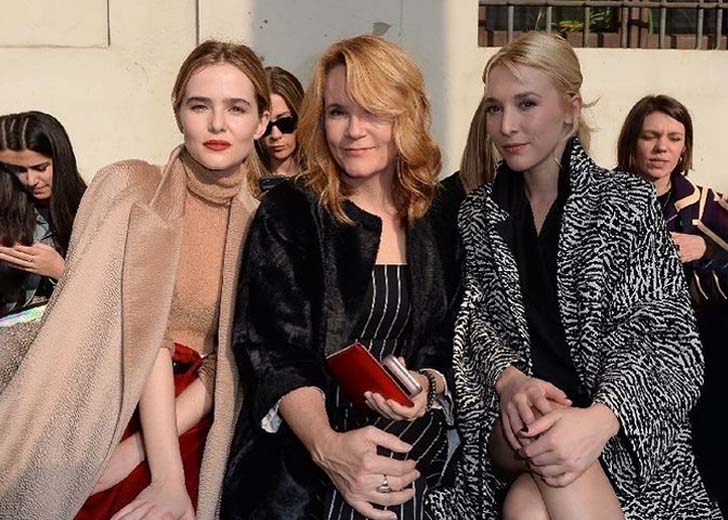 Lea Thompson has been married to Howard Deutch, a film director, since 1989. 
They have been together for over three decades and are blessed with two children — Madelyn Deutch (born March 1991) and Zoey Deutch (born November 1994).
As of 2021, Thompson's older daughter is 30 years of age, whereas the youngest is 27. 
Both Madelyn and Zoey have followed in their parents' footsteps and have indulged themself in the movie industry.
Comparatively, Zoey has more experience, as she has worked on more projects than her sister. In addition, Thompson's children have also worked on a few projects with her.
They have worked together on the 2017 comedy-drama, The Year Of Spectacular Men.

Lea Thompson, Zoey Deutch, Howard Deutch, and Madelyn Deutch. (Source: Instagram)
Lea Thompson on Working with Her Children 
Thompson and her children recreated their real-life relationship on-screen while playing The Year Of Spectacular Men. It was Thompson's directorial debut, and she was helped by her eldest throughout the process. 
Madelyn composed the score and wrote the screenplay, whereas Zoey and Howard served as producers. The movie revolves around Madelyn's character Izzy, the daughter of Deb (Thompson).
Izzy had just graduated college and is navigating her life and adulthood outside the college. She depends on her mother and her sister Sabrina (Deb's youngest daughter, played by Zoey) as she struggles with life.
During a 2018 interview with Today, Thompson gushed about her children and said she was proud of them. In addition, she revealed the two greatest accomplishments in her life. 
The first was her two daughters, whereas the second was "getting them together and making this movie." This is not the only time Thompson has mentioned being proud of her children. 

Lea Thompson, Zoey Deutch, and Madelyn Deutch. (Source: Instagram)
She said the same in an interview with KTLA Morning News on June 15, 2017. It took Madelyn four years to write The Year Of Spectacular Men, but Thompson was beside her always. 
In the conversation, they also talked about how Madelyn was more inclined towards music and Zoey towards acting. Thompson credited her eldest as a prodigy of Murray Deutch, Howard's father. 
This was because Murray was a music executive, and like her grandfather, Madelyn was more involved in the music industry. 
Lea Thompson and Her Daughter, Zoey Deutch
Out of two kids, Thompson has collaborated more with her youngest daughter. Recently the two worked together on Audible's scripted podcast named A Total Switch Show. 
The show was developed by Zoey and her friends, and Madelyn was one of its writers. A Total Switch Show follows a mother-daughter duo who switch bodies. 

Lea Thompson, Zoey Deutch, and Madelyn Deutch. (Source: Instagram)
Zoey and Thompson talked about working together in an interview with InStyle in April 2021. The latter admitted she drives her kids crazy even when she tries not to. 
Regardless of that nature of hers, she has "extreme admiration for both of them." Zoey added she respected her mother as an artist, and she is very close with her. 
However, there are a few boundaries since she needed to be her mother's better co-worker. But no matter whatever problems might arise, they are proud to be related to each other.