Are Lane Johnson and Wife Chelsea Johnson Separated?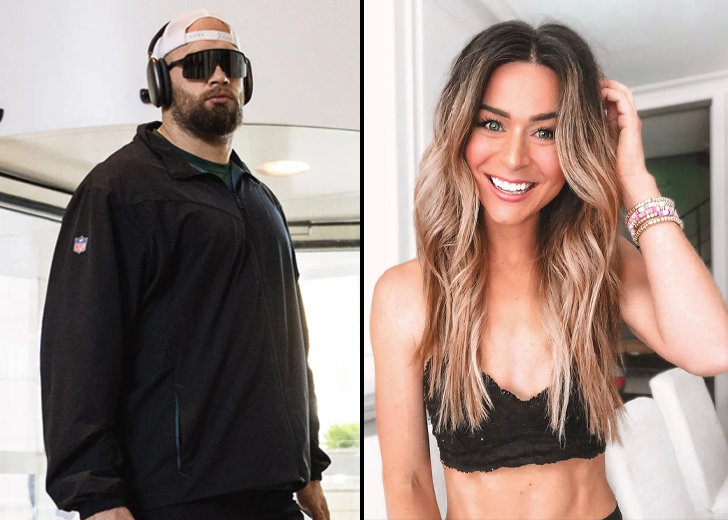 Lane Johnson took Chelsea Goodman as his wife in January 2013. Since their marriage, the couple has welcomed three children together.
However, for reasons none of the two have disclosed, Johnson separated from his wife after six years of marriage in 2019.
Johnson got candid about his depression and anxiety in October 2021 in a tweet. There, he revealed he had hidden his struggles from his family and friends, and thanked everyone who had supported him.
Because of this, many have speculated that this might have resulted in his separation from his wife. However, the exact details remain unknown.
Lane Johnson and Wife Chelsea Goodman
Johnson has revealed little about his relationship with Goodman. The two met during their time at the University of Oklahoma, where both of them were athletes.
Johnson played football, and Goodman was a high jumper. Similarly, her father, John Goodman, was also an athlete. He used to play defensive end for the Pittsburgh Steelers from 1980 to 1985.
Throughout the years, Goodman has been very supportive of Johnson, and she even attended the NFL Draft with him.
The two tied the knot the same year Johnson was drafted into the NFL.

Lane Johnson with wife Chelsea Goodman (Source: Twitter)
They Have Three Children
Johnson started his family and NFL career around the same time. He and Goodman welcomed their first child together, son David Chase Johnson, in August 2013.
David was born a day after his pre-season game. Like Johnson, David was also born with a clubfoot, a congenital disability.
David was in a cast at six days old until he had corrective surgery at three months. His clubfoot was fixed by the time he was ten months old.
Johnson later said that fatherhood had taught him a lot about life and brought him great happiness. "I feel like it's a true light since having him, just learning to think of somebody else more than yourself."
He also shared his thoughts about family and how it made him appreciate the things he had even more. "There are a lot of guys in the NFL that are single, they live lavishly. I feel like it's really nothing if you don't have anybody to share it with."
Three years after the birth of his son, Johnson and Goodman became parents for the second time in February 2016. 
He took to Twitter to share the joyous news while posting a picture of himself with his newborn. 
The offensive tackle for the Philadelphia Eagles revealed his daughter's name was Journey Lane Johnson. He also added that both mom and daughter were healthy.
When he won the Super Bowl LII, Johnson marked his celebration by posting a sweet picture of him and his daughter enjoying the moment.
Johnson and Goodman's family of four grew larger in March 2019 when she gave birth to their third child, son Channing McCoy Johnson.
Goodman's Instagram is filled with pictures of their three children, and she frequently posts about them.
She also uploaded a family picture in December 2020, where she wrote about how blessed she was in the caption.