Kyrie Irving Calls Girlfriend Marlene Wilkerson My Ankh (Key of Life)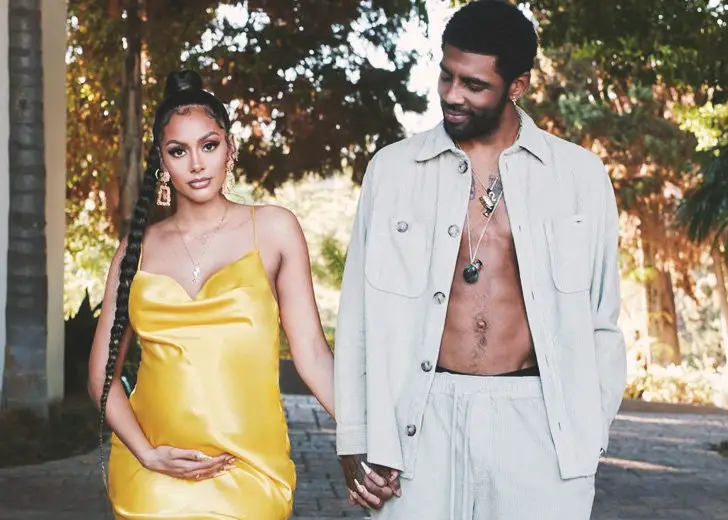 Irving posted a picture of himself and Wilkerson on Instagram and wrote a sweet caption. The basketballer called his girlfriend to be his "Ankh," or key of life. 
The Birth of Irving's First Child
Earlier this year, the Brooklyn Nets Point Guard welcomed his first biological child with Wilkerson.
On July 14, 2021, the couple released a video titled Our Pregnancy Journey on the YouTube channel The Find Guru, documenting their pregnancy and the eventual childbirth.
The video opens up with a silhouette of Wilkerson flaunting her baby bump in the middle of her bathroom while a beautiful horizon is seen in the background.
Also, in the initial footage, Irving can be seen sharing intimate moments with his pregnant girlfriend.
Toward the end of the video, Irving's girlfriend was shown in a bathtub with Irving at her side. The montage then cuts back to Wilkerson's silhouette, one similar to the opening footage.
However, this time, she can be heard screaming because of her labor pain. 
Shortly after, audio of an excited Irving can be heard where he repeatedly calls the newborn to be his "heaven" and supposedly reveals the child's gender by calling the baby to be "my boy."
But unfortunately, as of this writing, Irving and Wilkerson have not publicly spoken about the child's name and gender. 
Is Kyrie Irving Married?
Long before their love life became public, there were intense rumors of Irving and Wilkerson dating each other. The gossip intensified after Wilkerson, also popular with her alias Golden, was spotted in public alongside Irving in 2019.
Per a report by TMZ, it was Wilkerson's big shiny diamond ring that caught the attention of their fans and well-wishers. However, the couple is not married at the time of writing. 
The Nets superstar has a relationship history before Wilkerson. Irving was previously dating American singer Kehlani. But their love affair ended in 2016.
There were rumors of Kehlani cheating on her ex-boyfriend Irving. However, Irving later cleared the matter and claimed that his ex did not cheat or intentionally hurt him. 
The basketball superstar was also in an intimate relationship with Andrea Wilson, one of the participants in Miss Texas 2010. 
As of this writing, Irving isn't known to have a wife.
Kyrie Irving Adopted Wilson's Child
The former couple who started dating in 2013 called time on their relationship prematurely. In 2015, Irving's then-girlfriend Wilson became pregnant and claimed Irving to be the child's biological father.
By the time she knew of her pregnancy, Wilson had already split with her former boyfriend.
Irving initially filed court documents against Wilson but later agreed to take full responsibility and co-parent the newborn.
A change in his decision can be primarily traced back to a paternity test carried out in the same year that showed Irving to be her rightful father.
Irving named his firstborn Azurie Elizabeth Irving. His daughter's middle name comes after Irving's mother, who passed away when he was four years old. 
The NBA pro took to his Instagram to announce the birth and the name of his daughter on November 24, 2015 and has been taking care of her since then.