Inside Kym Marsh's Wedding with Military Partner Scott Ratcliff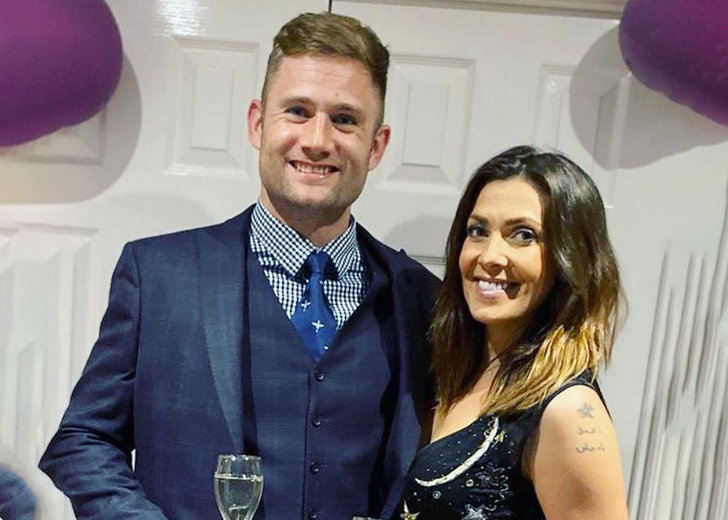 On October 16, 2021, Kym Marsh had a military wedding with her partner and Army Major Scott Ratcliff. 
The wedding ceremony took place with 150 guests at the Royal Memorial Chapel in Sandhurst. 
Some famous guests included Marsh's former Coronation Street co-star, Alison King, who was on bridesmaid duty, and her Morning Live co-stars Gethin Jones and Janette Manrara.
Marsh donned a stunning Carolina Herrera gown while her partner wore his uniform.
But the most special part for the actress was being walked down the aisle by her dad, who was diagnosed with terminal prostate cancer.
She revealed everyone got emotional about it. 
"There were tears when he walked me down the aisle and when I gave him a kiss as he sat down — there were lots of tears surrounding my dad that day," Marsh told OK! Magazine.
Once she and her partner exchanged their vows, they were treated to a military parade. 
Ratcliff's colleagues drew their swords into an arch for the couple to walk underneath before and share a romantic kiss at the end.
Kym Marsh on Her Wedding
Almost a month after the wedding, Marsh took to social media and broke the silence on her special day.
On November 6, 2021, Marsh shared a wedding photo on Instagram that featured her and her husband in a loving embrace while dancing.
In the caption, she wrote, "Take me back to 3 weeks ago when I married the love of my life!!!" 
She added she considered herself lucky, for her partner was no one like she had ever met. 
Fans were quick to hop in the comments section and congratulate the actress. 

Kym Marsh and her partner Scott Ratcliff on their wedding day. (Source: Instagram)
"Congratulations to you both. Absolutely stunning," one said.
Another commented: "Beautiful. Congratulations to you both. Hope you have many many years of happiness together."
However, there were some mean comments from people who wrote that it was about time she found the right one because she had enough practice. 
Marsh and her partner began dating back in 2018 after they were introduced by their mutual friend Antony Cotton, who stars as Sean Tully in Corrie.
Kim Marsh's Past Relationship
Most of the mean comments were referring to Marsh's past relationship. Before marrying Ratcliff, Marsh was married twice. 
In August 2002, she married EastEnders star Jack Ryder at St. Alban's parish church.
The duo had first met in a BBC canteen when Marsh was on Top of the Pops and Ryder was starring in EastEnders. 
But in 2009, the duo filed for divorce, and according to Daily Mail, Marsh admitted to adultery. 
She was dating her boyfriend, another EastEnders' actor, Jamie Lomas. 
The pair started dating in July 2008, and a few months later, she was pregnant.
But the couple lost their baby as Marsh gave birth to their son Archie prematurely in February 2009.
A year later, the couple was expecting again, and fortunately, this time, they welcomed their daughter Polly in March 2011. 
The following year, the couple tied the knot in September 2012, but after 13 months, they filed for divorce. 
The separation wasn't amicable, but the pair is reportedly on friendly terms these days.