Inside Kylie Jenner's 24k Birthday Collection As She Turns 24
All that glitters is gold for Kylie Jenner's new birthday collection.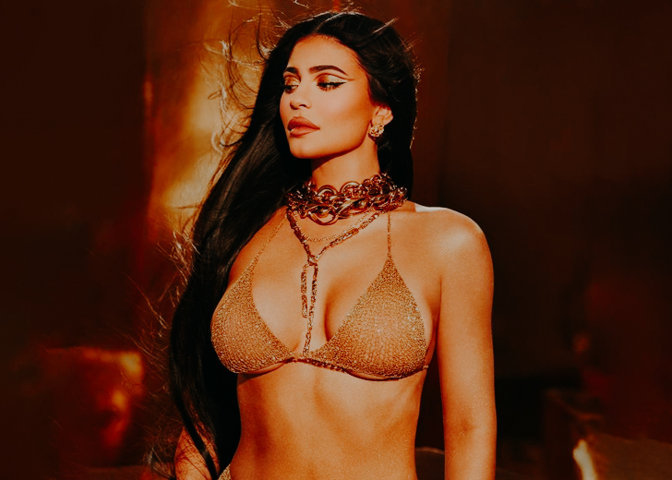 Kylie Jenner rarely disappoints her fans with her creativity and imagination when it comes to Kylie Cosmetics. Kylie Cosmetics was the reason Jenner was once named the world's youngest self-made billionaire by Forbes. 
From skin care to body makeup, Jenner does it all. Similarly, her company is also best known for releasing collections that get sold out in hours. 
Since she started her brand in November 2015, the makeup mogul has released collections every year on her birthday. These are a mark of achievements for her growth throughout the years. 
Every year, she works hard to launch different products on August 10, where she channels her birthday spirit into the creative collection. She works on every aspect of the products, from ingredients to packaging, to give her fans what they deserve. 
And this year is no different. For her 24th birthday, Jenner has come up with a brand new collection — the 24K Birthday Collection. 
24K Birthday Collection
On August 2, 2021, Jenner took to her brand's Instagram to post a picture of herself wearing nothing but g-strings and covered in gold body paint. Via the captions, she revealed the name of her 2021 birthday collection. 
The next day, she showed off the products via her Instagram stories. Her theme for this year is 24-karat, where gold color is the central theme of every product. 
Jenner dubbed this collection her "best collection yet," and it is without a doubt her most luxurious one, as all the products scream royalty. It consists of pressed powders, a liquid liner, three lip products, and a face and body highlighter. 
Pressed Powder Palette  
The 24k Birthday Powder Palette contains 24 shades and mostly has shades of gold, nude, and red. In addition, the shadows have all four finishes — mattes, metallics, shimmers, and glitters. 
Glittery Liquid Liner Duo 
This is a new product entering the realm of Kylie Cosmetic. The two liners are of copper and pink shades adorned with glitters. They are named Made of Gold and Heart of Gold.
These are highly pigmented liners that add a pop of color to classic liner looks. 
All-Over Gloss 
The All-Over gloss is a beautiful thick golden gloss to add the oomph factor to one's makeup. It can be used on eyes, lips, and face. 
Lip Serum 
Jenner took this limited-edition product to the next level by infusing it with actual 24 karat golden flakes. In addition, it contains natural oils like almonds, avocado, coconut, grapeseed, and jojoba, among others. 
This Lip Serum will keep your lips soft and healthy with all the natural ingredients.  
Lip Shine Lacquer Set  
These are the second brand new products for Kylie Cosmetics in this collection. The lip set has Argan Oil and gives off pigmented shades to adorn the lips.
Altogether, there are four shades of Lip Shine Lacquer — a brown nude, peachy nude, pale pink beige, and a warm pink nude. 
Body Glow
All Gold Everything is a gold liquid highlighter that can be applied to both body and face. It provides a sheer golden shine which is reflective but subtle. 
Face Highlighter
The Good as Gold is a yellow-gold pressed powder highlighter. It is packaged in a beautiful gold palate with the number 24 stamped on the powder. However, Jenner is getting backlash since it resembles Fenty Beauty's Trophy Wife. 
Similarly, she is also getting backlash for having an unoriginal idea and tacky packaging. But, looking at the past, regardless of backlashes, Jenner's products have always sold out quickly. 
So, there are high chances that this collection will as well. But we will only know after its release on August 10, 2021.