How Having a Kid with Wife Mandy Changed Kyle Shanahan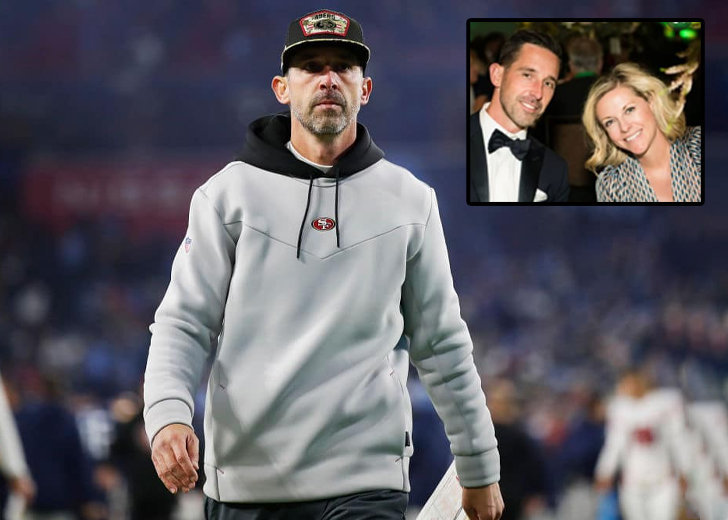 Kyle Shanahan, San Francisco 49ers head coach, has been married to his wife Amanda "Mandy" O'Donnell for over 15 years. In this time, they have had three children.
Having the first of those three was the biggest change for him. And also the thing that changed him the most.
Kyle Shanahan's Wife Noticed Maturity in Him after First Baby
At 27, Kyle Shanahan was in crunch time when his wife Mandy was pregnant with their first kid in 2007.
He was involved in two practice sessions a day with the Houston Texans, making for 12-hour workdays.
Mandy wasn't even sure he would be there during the delivery.
But he was. He was there to witness the birth of his daughter, Stella Taylor Shanahan, on August 7, 2007.
He even "coached" through the delivery. He held it together until she was born.
However, as soon as she was born, he started crying. Shanahan also became more mature after her birth, or that's what his wife said.
"He's so much more responsible," Mandy said at the time. Stella became his priority immediately.
He didn't feel the maturity right away, though. "I still feel like a kid," he quipped a month after welcoming his daughter. He felt like the same person he always was.
While Shanahan was working with his team, it was Mandy who handled Stella and the family. He credited his wife for being strong and handling the baby while he was away.
He was so in love with his daughter that he would, at times, ignore Mandy. He was hyper-careful with her and thought she was "perfect."
Kyle Shanahan and Mandy's Married Life
Shanahan and Mandy met each other while attending Cherry Creek High School in Denver, Colorado. He was one year his senior.
They started dating only after she graduated from high school.
But their love story isn't without bumps. They broke up soon after because they were attending different colleges but remained close friends.
It took a tragedy to pull them together again. When Mandy's mother Nancy was diagnosed with cancer in 2001, Shanahan took care of her.
In fact, that was when she knew he was the one. "After going through that with him, I couldn't imagine being with anyone else," she admitted to SFGate.

Kyle Shanahan with his wife Mandy and three kids. (Photo: Eric Branch/Twitter)
Shanahan had never thought of getting married young. Mandy made him change his plans about that.
The couple got married on July 5, 2005.
Stella became a sister around 2009 as Shanahan and Mandy had their second kid, son Carter.
The coach, who is known for his love of hip hop, might have named him after Lil Wayne, given that his real name is Dwayne Michael Carter Jr.
Then came Lexi, their third and youngest, in around 2013.
Shanahan has made his family move around a lot due to his job. The family now lives in California, where he's busy with the 49ers.