Inside Kyle Rudolph's Family Life with Wife Jordan Nine and Kids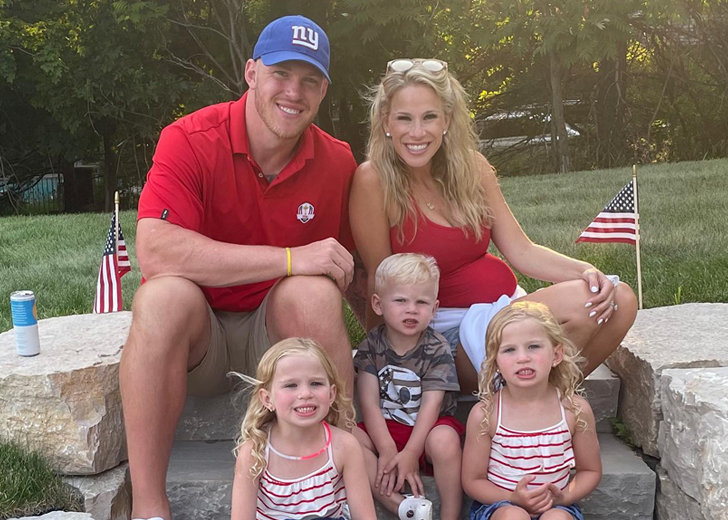 Kyle Rudolph, the New York Giants tight end, was introduced to his wife Jordan Nine, at a party in the sophomore year of college.
They got the feeling that they would immediately hit it off after meeting each other. Rudolph has always worn the number 9 throughout his high school and professional football career.
The fact that the woman he was dating also carried the same number on her last name made it such that they were meant for each other.
After five years of dating, the American footballer surprised Nine by proposing to her in front of the Cincinnati skyline backdrop.
They were accompanied by their family and friends to celebrate the special day.
Wedding Ceremony of Kyle Rudolph and His Wife 
The NFL player and his wife married on February 13 of 2016 in Cabo San Lucas, a wedding destination preferred by several pro athletes for its sweeping views of blue skies and palm trees.

Kyle Rudolph and his wife kissing at their wedding (Source: Youtube)
They chose to work with vendors from Mexico and Minnesota to create the perfect balance between a high-class event and a casual one.
"We wanted a relaxed, fun, wedding with a formal feel," said Rudolph's wife explaining the pair's decision.
The Wayzata couple decided to go with an "intimate wedding" with only 94 people on the guestlist for the ceremony and the party.
This way they were able to spend time with all of them without having to make anyone feel uninvited.
The couple explained that they chose Cabo as they didn't want a "huge extravagant wedding." 
They said that everyone who was with the couple in Cabo played a "huge role" in their lives and their relationship.
Rudolph's partner wanted to enjoy the moment fully, rather than stressing about planning details. She left all the hefty work up to her planner.
Nine was so easy-going about the whole thing that she even picked her wedding dress in a matter of an hour.
Kyle Rudolph and His Wife Have Four Kids
Rudolph's partner gave birth to the couple's first children in late October of 2016, only around 9 months after their wedding day.
Prior to giving birth, Nine and Rudolph announced that they were expecting twin girls in a Minnesota Twins game.
They shared their first family photo with the twins, Andersyn and Finley, on Instagram thanking everyone including their teammates, coaches, and Vikings fans for their support and well wishes.
Only a year later, they welcomed another member to their family. They named him Henry and he was born on January 15, 2019.
"Hello, World! Another Minneapolis Miracle…Momma is a rockstar and little man is doing great!" read the caption of the post announcing his arrival.
Similarly, they welcomed the newest member of the Rudolph family, Crosby James, on November 5, 2021.
They are now a happy family of six.
About Kyle Rudolph's Wife
Nine attended Santa Monica College in Los Angeles.
Prior to having children, she referred to herself as a "bulldog mom," owing to her two bulldogs, Char and Brent, whom she flaunts on social media.
Nine becomes an immediate fan of the Irish whenever there is a Notre Dame game. She does this despite having no other connection to the institution except her spouse.
She's a fan of her husband who backs him in whatever he does or is involved in.
She is a co-founder of Henri Home, a business that sells unique pieces for the home. She is also an avid contributor to the community, raising funds for cancer research and a children's hospital.
The pair continue giving back to and getting involved with the Twin Cities community.