'Engagement Photo Dump' — Says David Bakhtiari Who Appears To Be Content with His girlfriend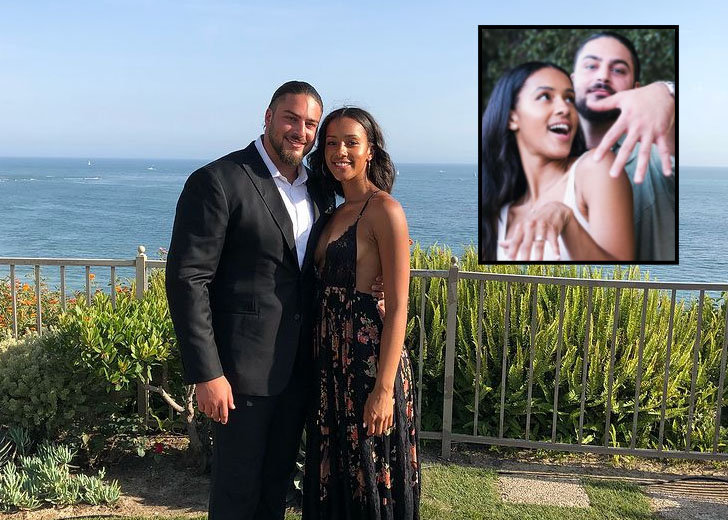 David Bakhtiari, the Green Bay Packers offensive tackle, posted photos of his engagement on Instagram with his long-time girlfriend, Frankie Shebby.
The pictures show the two spending time together and Shebby showing off her engagement ring.
"Engagement photo dump. Blooper versions only," reads the caption for the photos of the wonderful moment.


David Bakhtiari after he proposed to his girlfriend (Source: Bakhtiari's Instagram)
"Bloopers" is a fitting word to describe the photos as the proposal had it all that it needs in a movie — romance, a picturesque background, a well-known leading man, suspenseful music, and a happy ending.
How Did David Bakhtiari Propose to His Girlfriend?
On the Fourth of July weekend, the NFL star shared a 6-minute video of him surprising his girlfriend with a marriage proposal while on a boat.
"She has no idea," read a caption early on in the video that had the Mission: Impossible theme playing in the background as Bakhtiari looked at the camera of which Shebby had no clue about.
Bakhtiari was seen driving the motorboat racing across the water when suddenly he stopped to ask his girlfriend to marry him.
Completely unaware of what's coming, Shebby questions "Are we dancing?" with very little enthusiasm. Only when Bakhtiari got down on one knee, the tears started flowing.
She immediately broke down crying with amazement repeatedly saying, "I'm in shock."
Bakhtiari then pointed out the well-wishers waiting for them on the shore to which Shebby responded by joyously waving to them.
She posted photographs of the ring and the pair celebrating their engagement on land the next day on Instagram.
Who Is David Bakhtiari's Girlfriend?
Shebby is a foodie and an entrepreneur.
Bakhtiari, 30, and Shebby, 26, were dating for almost three years since October 2017 before they decided to get engaged.
They both played volleyball at the University of Colorado and the University of Oregon. They frequently post about the times they spend together in their respective Instagram accounts.
Shebby has her own Instagram account dedicated to food, and she also creates wreaths for her business, Frankie's Wreath Co.
Her interest in wreath-making originated by chance, according to her website. After a previous wreat she had fashioned died, she took an interest in wreath-making.
This was when she first moved in with her then-boyfriend and now fiance. She watched a wreath that was alive slowly wilt away in front of her eyes.
She decided, after two years, that it was time to make a new one that would live forever. While making a wreath of her own, she had a lot of fun and decided to continue making them.
Slowly she began sharing her designs with her followers through Instagram, offering to make some for them.
Only months before proposing to the love of his life, Bakhtiari purchased a $3.9 million mansion on a hilltop in California's San Fernando Valley, according to Variety.
The 6,400-square-foot estate includes a 24-foot-tall entrance and a home theater. Covered patios, a sunken sitting area with a fire pit, a sports court, and a pool are all available outside.