Is Kit Connor Dating On-Screen Partner Joe Locke in Real Life?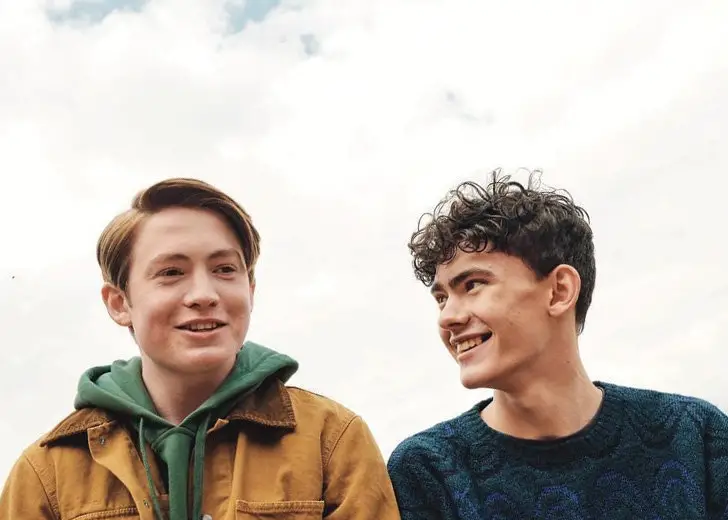 Kit Connor and Joe Locke have become household names since their show Heartstopper was released on Netflix on April 22, 2022.
The show follows two boys, Nick Nelson, portrayed by Connor, and Charlie Spring, played by Locke. It primarily revolves around Nelson slowly falling in love with his friend Spring.
However, he is confused about his sexuality, so he navigates his orientation as he turns his friendship with Spring into a relationship. The series was critically acclaimed for its representation of the LGBTQ+ community.
Similarly, Connor and Locke were lauded for their portrayal of Nelson, Spring, and the relationship between the two. As a result, the pair has been trending online and has become a discussion topic.
Since their chemistry on-screen felt real, many wondered if they were dating in real life as well.
Are Kit Connor and Joe Locke Dating IRL?
Many people want Connor and Locke to date in real life. Some of them have taken to Twitter to share their opinion on the actors' love life and sexuality.
Unfortunately, Connor and Locke are not dating in real life and are not in a relationship. Their love story is only on-screen and limited to Heartstopper.
In an April 22, 2022 interview with Them, the pair talked about their relationship. They said they were "really good friends" and gushed about how they loved sharing screens.
Connor said that he and Locke shared an "immediate connection" soon as they met. There was no sense of awkwardness between the two, unlike the characters they portrayed on Heartstopper.
He said, "One of the best decisions about the schedule of how we filmed Heartstopper was that it was quite chronological." This meant that when the actors first met each other, their characters did the same.
And when they got to know one another properly, their characters followed suit. Connor explained that this was not just for Nelson and Spring, but instead, it was for the whole cast.

Kit Connor and his 'Heartstopper' co-star Joe Locke are not dating in real life. (Source: Instagram)
Elaborating more on their friendship, Locke said he and his co-star were comfortable with each other. They had gotten to that point in their relationship that they were mean to each other.
Connor added that his and Locke's banter was quite different from Nelson and Spring's. They talked with each other in a "very much taking the mick out of each other."
Nelson and Spring were not like that with one another. Instead, their joking was "very sweet, and kind of flirty, cute and nice."
Therefore, Connor and Locke had to adjust their relationship when portraying their characters.
Kit Connor and Joe Locke's Dating Life
Both Connor and Locke are very private about their love life. They have not revealed if they have a girlfriend or are dating anyone.
Various speculations were going on about Connor's gender orientation and sexuality. Many believed that he was gay or bisexual, like his character in Heartstopper.
However, Connor stopped the assumptions by tweeting how people on the internet knew more about his sexuality than himself.
Regardless, he has revealed nothing about his personal life, including his girlfriend, sexuality, or dating history.
Similarly, Locke has also not made any comments about his dating life. He was linked with another Heartstopper star, Sebastian Croft.
CelebwikiCorner reported fans noticed how Locke and Croft were close with each other. They had the most pictures together online, and some of those photos were intimate.
This made many believe that the two were together. However, Locke and Croft have not confirmed the rumors despite all the assumptions.