Kirk Franklin Jokes His Daughters Have Taken All His Money, Wants Fans to Buy His Music and Merch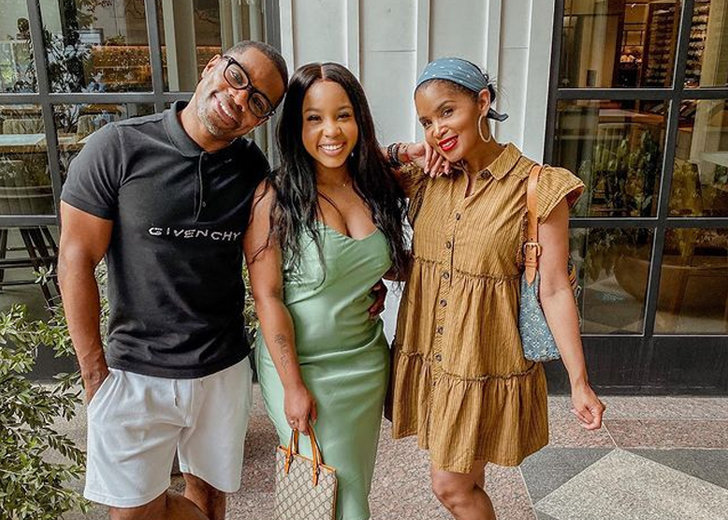 On December 28, 2021, Choirmaster Kirk Franklin took to his Instagram and posted a picture of himself with his two daughters, but instead of the photo, his lengthy humor-filled caption stole the spotlight.
"I need your help. These two young ladies are my daughters. They have taken all my money," Franklin wrote in the opening sentences of his recent Instagram post.
Further, he wrote his daughters have "bamboozled" him with their "daughter voodoo," which only fathers receive.
Franklin mentioned how they "bat their eyes" and do the "daddy plea" when the two fail to get financial support from their mother or husband.

Gospel icon Kirk Franklin with his daughters. (Photo Credit: Instagram)
The gospel singer did not hold back and claimed that they often asked their fans to buy their cassettes, CDs, t-shirt so that they could have money to eat.
Franklin called the "sweetness" on display in the picture deceptive and claimed that the "two witchcraft priestess" had their hands out to drain him as soon as the photographer took the picture.
However, he ended his long writing on a sweet note. "And I will forever let them…. Cause they're my daughters," he wrote in the concluding sentence.
While Franklin might be joking about his children here, he has been part of family drama involving his son.
The son accused his mother of assault and physical abuse and Franklin of using foul language during a heated exchange.
Kirk Franklin: His Wife, Daughters, and Sons
The musician is currently married to Tammy Collins, a former makeup artist. The couple got married on January 20, 1996, after dating for a long time.
After their marriage, Franklin's wife Collins quit her job to focus on her family, including four children, two daughters, and two sons.
As per Amomama, their son Caziah is the youngest out of the four and is currently twenty-one-year-old.
He has followed in his father's footsteps and has a career in music as a drummer and guitarist.
Kennedy is the couple's firstborn and is currently twenty-four years old.
Unlike her brother, nothing concrete is known about Kennedy's career and her personal endeavors.

Kirk Franklin with his daughters and son. (Photo Credit: Instagram)
Carrington, aged thirty-two, is Franklin's daughter from his previous relationship. Born in 1989, she was adopted by the music artist and his wife after their wedding.
As of this writing, she is married to her husband Maxx Nakwaasah and is a mother to her son, Shiloh.
She married Nakwaasah in 2016 and gave birth to her child in April 2020.
Likewise, Kerrion is the name of Franklin's eldest child from a former relationship.
According to The Sun, he was born in 1988 and is a musician like his father. However, concrete information about his biological mother is not available presently.
Kerrion lives away from his family due to his row involving his father and his mother.
The Row Involving Kirk Franklin and His Son
On March 13, 2021, Kerrion leaked an audio recording of himself and his father on his official Instagram page.
In the clip, Franklin was heard using abusive language to his son.
The following day, the singer posted an apologetic video on his Instagram account, admitting that his relationship with Kerrion had been toxic for several years.
"For many years we have had a toxic relationship with him as a family," Franklin said in his video.
Further, the gospel icon said the family tried counseling and therapy for years to rectify the family matter.
Regarding the audio, he said he felt extremely disrespected during the conversation Kerrion recorded.
As a result, he lost his temper, which prompted the popular singer to use inappropriate words.
Toward the end of the clip, Franklin admitted that he's not a perfect father and is only human trying to do the right thing.