Twitter Uncovers Kimberly Guilfoyle's before Plastic Surgery Pictures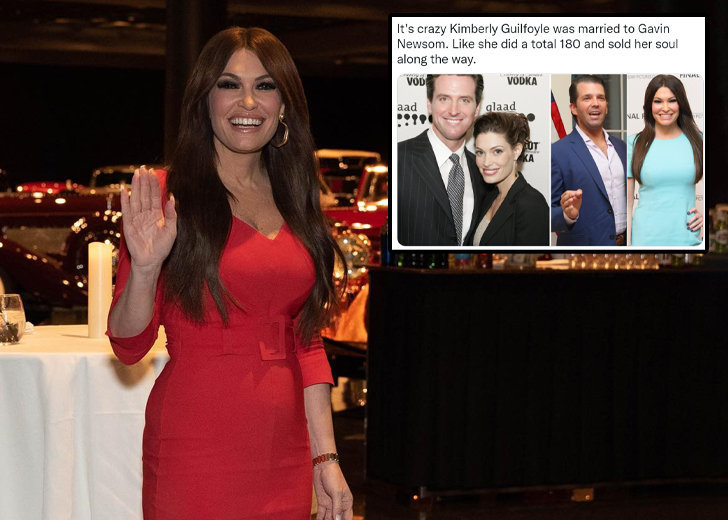 Kimberly Guilfoyle, a model, and TV personality, is famous for her stints on Fox News and association with politics. Naturally, this kind of exposure leads to many rumors and speculations.
One of the many speculations regarding Guilfoyle is about the possibility of her having had plastic surgery.
And while these weren't helping her, her tendencies to post heavily airbrushed pictures with her fiance Donald Trump Jr. didn't make the rumors disappear, either.
Kimberly Guilfoyle's Plastic Surgery Rumors
Guilfoyle's surgery rumors started becoming a lot more prominent after she began her relationship with Trump Jr. After his split with ex-wife Vanessa Trump, the two started dating.
Her political affiliations changed, and her appearances in the media increased after this. People started comparing her now to how she looked in the past.
Before Trump Jr., Guilfoyle was married to Gavin Newsom from 2001 to 2006. She had a lot of public appearances back then as well.
But more so than her politics, people talked about how she looked back then and how she does now. This is where the plastic surgery speculations start.
There are many people talking about her looks back then and now on Twitter. Many have speculated that she had bad plastic surgeries.
A few have opined that she looked better before plastic surgery and have used her old pictures to prove their point.
Someone even noted that she "looked beautiful" during her days on the Nancy Grace show on CNN.
A few others said that she needed to get a refund from her surgeons for bad plastic surgery results.
As for the procedures people say she has undergone, many point to her cheeks, hair, forehead, and other parts. People allege she has had cheek implants, injections on her forehead, and fake hair extensions.
Kimberly Guilfoyle's Airbrushed Picture Became a Meme
During the early days of her relationship with Trump Jr., Guilfoyle posted their heavily edited picture on her Instagram. This picture immediately gained a lot of traction, and not for good reasons.
The couple's face looked unusually smooth in the picture, and it seems to have high exposure.
Wrinkles and blemishes are virtually invisible, and his hairline, too, looks to be a bit edited.

Kimberly Guilfoyle's picture with Donald Trump Jr. added to her plastic surgery rumors. (Photo: Kimberly Guilfoyle/Instagram)
People immediately criticized and mocked the picture in the comment section, writing things such as "Making FaceTune great again" and "All that Facetune and you couldn't do ANYTHING about his double chin?"
Others pointed out the overuse of smoothening filters, with one saying, "Damn chill out on the SMOOTH FILTER!!!"
But it wasn't just non-famous people who found this odd. Verified accounts, too, jumped on the bandwagon.
Chrissy Teigen called the couple a robot for their looks on the picture, focusing on their smiles.
Others compared the picture to a botched Fresco of Jesus and made a joke about finding someone who loved you as much as the couple loved FaceTune.
It would be safe to assume that this and a few other pictures did not help Guilfooyle's case when it came to plastic surgery rumors.
However, regardless of what the internet has said over the years, the TV personality has not come out to admit or deny any of these rumors.