Kimberly Guilfoyle and Donald Trump Jr.'s Children Get Along Well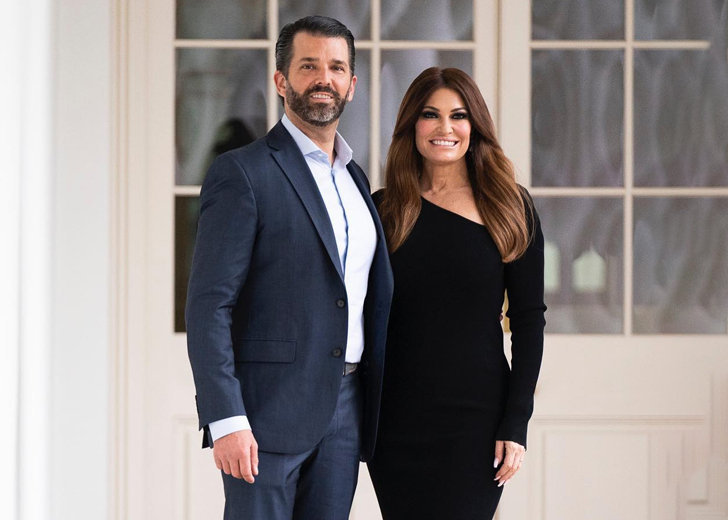 Kimberly Guilfoyle started dating Donald Trump Jr. around 2018. They both had had serious relationships before their time together.
Guilfoyle and Trump Jr. both have children from their previous marriages. It might have been vital for them that their kids get along with one another as well as they do.
And it seems like the now-engaged couple's joint family is functioning well.
Kimberly Guilfoyle and Fiancee's Children Get Along Well
Guilfoyle is now an almost-step-mother to Trump Jr.'s five children from his previous marriage. And he is like a father to her son from her previous marriage.
The family seems to spend quality time together often. Further, they seem to be together more when the times are difficult.
An example of this was their Easter celebrations together in April 2019. This was right around when the Trump family was under pressure due to the Mueller reports.
For Easter, the whole family headed to Trump Sr.'s club in Mar-a-Lago, Florida. The little ones started their vacations with a family tradition of making Easter bunny cakes.
Trump Jr. posted a photo dump of the activities, and both their kids made appearances.


Kimberly Guilfoyle and Donald Trump Jr. with their children. (Photo: Donald Trump Jr./Instagram)
Later that same day, on April 20, Guilfoyle posted a video of the kids having fun in the swimming pool at night.
"Night swimming with the munchkins," she captioned the clip as she wished everyone a Happy Easter.
Guilfoyle's son Ronan, too, seems to be getting on well with his to-be step-father. On his 15th birthday in 2021, Trump Jr. posted a few pictures with them together with a cheeky caption.
He began his October 4, 2021 post by wishing him a happy birthday. Then, he joked, saying, "Can't wait till you can drive me around so get to work."
The first picture showed the duo having fun fishing on a beach somewhere. The images that followed were a portrait and a selfie of the three.
About Kimberly Guilfoyle and Donald Trump Jr.'s Children
Guilfoyle has had two relationships before her time with Trump Jr. She got married to politician Gavin Newsom in 2001.
The couple, who were even termed the "New Kennedys" at one point, even appeared on the 2004 issue of Harper's Bazaar.
Their marriage ended in January 2005 when they filed for divorce. Their separation was made official on February 28, 2006.
And for those searching "Kimberly Guilfoyle Gavin Newsom children" on Google — No, they did not have any kids during their time together.
A few months after her divorce from Newsom, Guilfoyle married Eric Villency on May 27, 2006. She had her first kid, Ronan Anthony Villency, on October 4, 2006.
In June 2009, they separated, and the divorce was finalized a few months later.
As for Trump Jr., he started dating his ex wife, Vanessa Trump (nee Kay Haydon), after his father suggested doing so. They married on November 12, 2005, after two years of dating.
They had five kids — Donald Trump III, Chloe, Spencer, Kai, and Tristan.
Trump Jr. and Vanessa filed for divorce in March 2018, and it was finalized at the end of that same year.
Guilfoyle and Trump Jr. got engaged on December 31, 2020, but revealed the news only in January 2022.