Has Kiernan Shipka Moved on from Boyfriend Christian Coppola to Date BJ Novak?
Are Kiernan Shipka and BJ Novak dating? Or is it just internet gossip?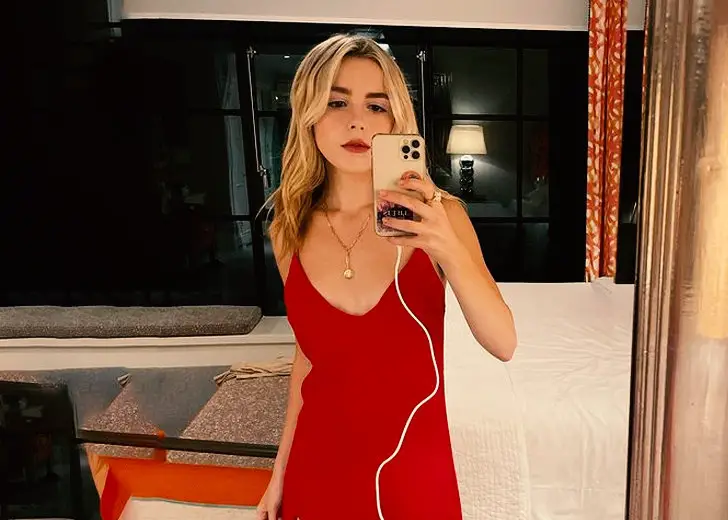 American actress Kiernan Shipka, age 21, and 42-year-old actor, BJ Novak, are rumored to be dating each other; at least, that's what the internet thinks of the two. The speculation began when pictures from anonymous sources started being reported by various entertainment websites. 
This article will attempt to examine the suggestion and try to make the matter more clear. 
Getting to Know Kiernan Shipka
Shipka was born on November 10, 1999, in Chicago, Illinois. She started her acting career at a very young age. However, Shipka was only five months old when she was seen in the hospital drama ER.
She was given a decent start to her career in 2006 when she was offered a part in the American comedy-drama Monk. However, Shipka got her movie break the year after. 
Shipka is now a proven actress and is well-known for her roles as Sally Draper in the AMC drama series Mad Men and Sabrina Spellman in the Netflix series Chilling Adventures of Sabrina.
Is BJ Novak Really Kiernan Shipka's Boyfriend?
The internet thinks Shipka is dating Novak, one of the writers, producers, and directors of the popular NBC sitcom The Office. The evidence?  Their old tweets and a couple of paparazzi-esque pictures. Is that enough? Let's explore further. 
American actress, Shipka, and actor Novak's dating rumors are fuelled by images circulating online where the Mad Men actress and Novak are seen together at various locations at varying times.  
Their old tweets are also part of the conversation where the duo is seen singing praises on many occasions. For example, in a tweet made in 2014, Shipka wrote, "Happy birthday to the super cool @bjnovak!". Novak responded by tweeting back, "@kiernanshipka I'm cool because I know you!." 
There are also many pictures of the two where they are seen meeting each other in cafes and restaurants.

In one of the unclear pictures taken secretly from afar, Shipka is assumed to be kissing Novak's cheeks. 

Despite the half-hearted claims, there is no actual evidence to either believe that they are currently dating.
Also, the pictures are not clear enough to settle claims of any kind. Furthermore, even if these pictures are legit, it isn't easy to trace back the exact time the photos were taken. In short, we don't know the context and the time. 
Additionally, a quick rundown of Shipka's verified Instagram account provides no evidence of the two being in a relationship. 
However, as muddy as it might look, if Shipka is actually in a relationship with someone, she deserves to be given the benefit of the doubt, as people, especially celebrities, are often known to remain secretive about their relationship.
About the above statement, actress Shipka has been seen with filmmaker and photographer, Christian Coppola, in numerous pictures with interesting captions.
Is Kiernan Shipka Dating Christian Coppola?
Contrary to the claims of Shipka and Novak dating each other, the claims of a Shipka-Coppola love affair seem logical.
And look no further than the actress's Instagram posts. In one of her recent posts captioned "happy family," Shipka sits casually alongside Coppola and a black dog. In another post, the actress called Coppola and a mannequin head "her boys." Finally, the duo was seen posing with birthday cakes.
Fifteen weeks ago, Shipka posted a picture with Coppola wishing "Happy birthday" to her dear. She further credited Coppola for making her "life so spicy."
In a holiday post, she called the filmmaker "my love" and was seen wearing a red gown while standing alongside Coppola who was sporting black clothes and eyeglasses. Rome's famous Colosseum could be seen in the background.
And finally, in a post made nearly two years ago, the supposed couple could be seen leaning against each other. The caption read, "i love you @ccopp."
All these shreds of evidence point to the fact that Coppola might actually be Shipka's boyfriend. Furthermore, it debunks the rumors that Shipka is dating Novak.