Kevin McKidd as a Father of Four Kids Is More Appreciative of the Parenting Process
Kevin McKidd definitely learned a lot from raising his first two kids.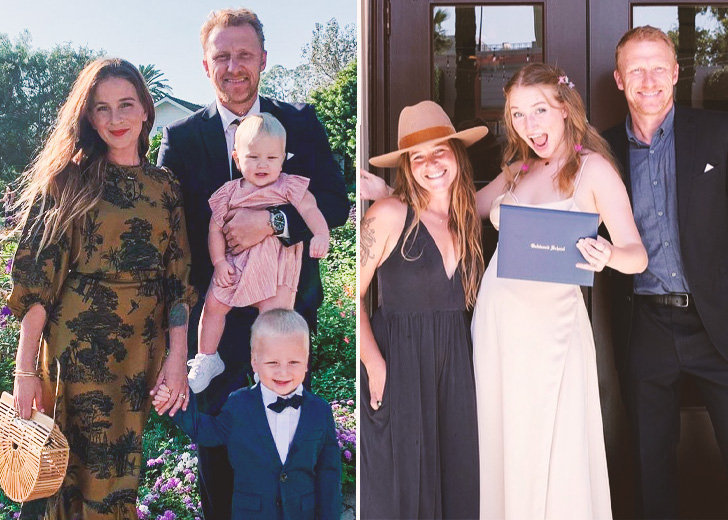 They say experience makes a man perfect, but in Kevin McKidd's case, it has made him more relaxed.
In July 2019, the Grey's Anatomy star and his wife Arielle Goldrath welcomed their second child together, making it the fourth for McKidd. The actor had shared the news on Instagram with a photo of their daughter, Nava James McKidd, alongside a caption where he noted that his newborn daughter was amazing and that he and his family felt blessed.
McKidd also shares a son, Aiden, with Goldrath and is a father to daughter, Iona, and son, Joseph, from his previous marriage.
During his interview with People, the actor opened up about life as a father of two young kids after raising teenagers. The actor said that he and his wife shared the workload by taking turns waking at 5.30 am.
The actor also shared that he felt more relaxed with his toddlers than in his first marriage with his other children. He added he appreciated the process more and found it less stressful. 
Kevin McKidd's Second Wife
In March 2018, McKidd shocked everyone when he dropped a major bomb on his website. 
The Scottish-born actor revealed that he and Goldrath — a private chef, were married and announced that the pair were expecting a baby together. The actor had posted a photo of him and Goldrath all smiles, walking hand-in-hand down the aisle. 
McKidd was wearing a native traditional green kilt while his bride donned a long-sleeved, floor-length, lace gown which hugged her showing belly. The actor titled the post "Very Happy, Very Big News!" and wrote that he and Goldrath were excited to announce their marriage and new baby. 
He also added that his kids were happy for them and were looking forward to the arrival of their sibling. 
They held the celebration at Calamigos Ranch in Malibu, and it was an intimate affair that included close friends, family, and McKidd's Grey's Anatomy family. The event also had a Scottish Ceilidh dance and was officiated by Rabbi Emma Lutz.
Kevin McKidd's Divorce from First Wife
Before Goldrath, McKidd was married to his first wife, Jane Parker, for 17 years. They finalized their divorce in December 2017, as reported by People.
The duo had separated in October 2015 and shared joint legal custody of their two kids. According to the filings obtained by the outlet, the former husband and wife had to follow a "nesting arrangement," which meant that the kids remained in their family home, but McKidd and Parker had to rotate their visits. 
But according to the papers, that was going to end before June 2018.
McKidd also had to pay $22,440 in monthly child support and $65,096 in spousal support besides the kids' private school and summer camp. But all this would end once the kids turned 18. He also had to give 20 percent of his income directly to Parker. 
The divorced couple got to keep one of their homes but shared ownership of the third property in Malibu.