Kerry Washington and Her Husband Nnamdi Asomugha Are Homebodies — Inside Her Personal Life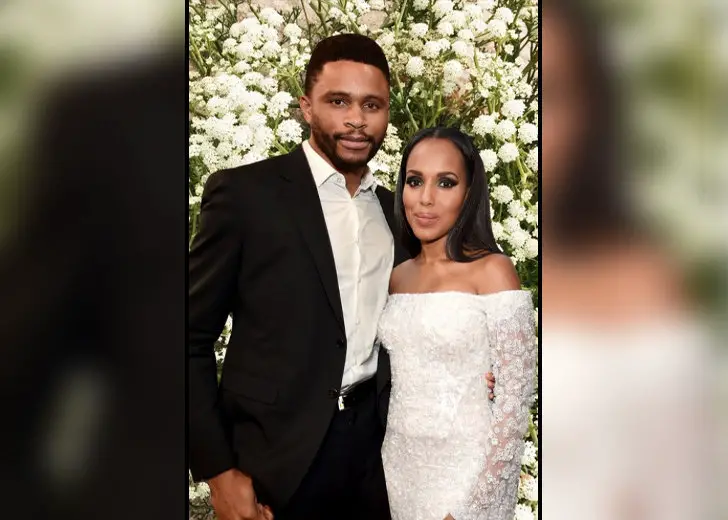 Before getting married to her husband, Kerry Washington was in love with someone else.
She was together with actor David Moscow, best known for Big, Newsies, and Zoe, Duncan, Jack & Jane. The two got engaged in October 2004. 
But unfortunately, their relationship did not work out. As a result, Washington and Moscow broke their engagement and parted ways in March 2007. 
After her breakup, the Scandal actress was scared to move to another relationship. She had always been in long-term relationships, so she had not been single for a long time.
But she soon found love in the arms of another man, who later became her husband.

Kerry Washington posing for a picture. (Source: Instagram)
Who Is Kerry Washington Married To?
Washington is married to Nnamdi Asomugha, a former NFL player. He had a very impressive NFL career for a decade from 2003 to 2013. 
He initially started his journey with Oakland Raiders from 2003 to 2010. Then, he was with Philadelphia Eagles for a year from 2011 to 2012. 
Then, he joined the San Francisco 49ers for a year in 2013. After that, however, Asomugha wanted to leave his NFL career with the same team. 
Therefore, he signed a one-day contract with Oakland Raiders and officially retired on December 27, 2013. During his NFL career, Asomugha also joined the entertainment industry. 
He made his acting debut on the sitcom The Game in 2008 and did a few projects. He made his movie debut in 2012 with Fire with Fire. 
Since then, he has been featured in other series and movies like Double Negative, Funny or Die, My Name Is Doris, Kroll Show, Beasts of No Nation, and Crown Heights.

Kerry Washington and her husband, Nnamdi Asomugha, posing for a photo. (Source: Instagram)
He is also the chairman of the Asomugha Foundation — which dedicates itself to working for the welfare of orphans, widows, and students.
Kerry Washington and Her Husband 
It is unknown when Washington and her husband started dating. However, the pair reportedly began dating in the summer of 2012.
A year later, the two got married. It was reported by E! News that the pair tied the knot on June 24, 2013, in Blaine Country, Idaho. 
Washington married her husband in secret, so not much is known about their wedding and how it happened. The two have kept their relationship out of the spotlight since then.
In 2020, a source told People they are "homebodies," and they are "really weird about who they let in their circle." For example, the two rarely go on outings; they simply hang out at their home.
But once in a while, they make public appearances. Washington's husband makes red carpet appearances as her date, and the two pose for photos. 
Other than that, they are secretive about their love life. The couple shares two children — a daughter and a son.

The actress showing off her baby bump. (Source: Instagram)
Washington revealed she was pregnant with her first child in October 2013 on the red carpet of Golden Globes. The couple welcomed their daughter, Isabelle Amarachi, on April 21, 2014. 
Two years later, they were blessed with a son. Just like the first time, the actress revealed her second pregnancy at a public event. 
She flaunted her baby bump when she attended the White House Correspondents' Association Dinner in Washington, D.C. She gave birth to her son, Caleb Kelechi, on October 5, 2016.
Much like her relationship with her husband, Washington has kept her kids out of the public eye as well.