Kenya Moore and Marc Daly's Divorce — Is There Drama behind Instagram?
Kenya Moore and Marc Daly apparently have a healthy bond, but there's more than what meets the eye.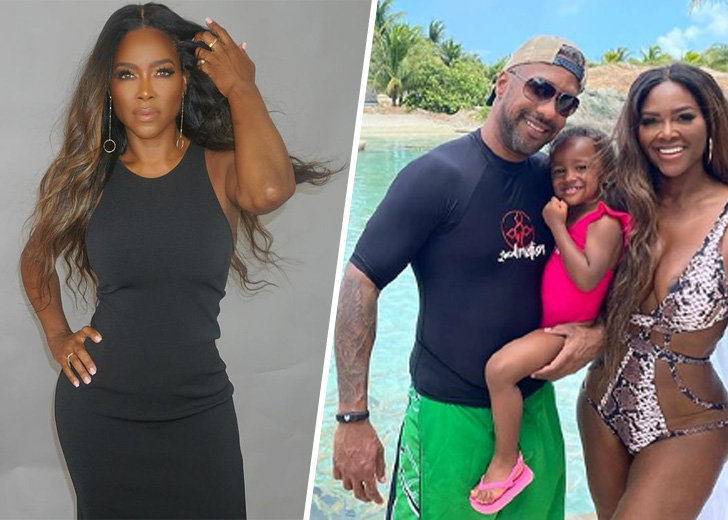 The Real Housewives of Atlanta star Kenya Moore is splitting with her husband of four years, Marc Daly. The reality star filed for divorce in Fulton County, Georgia, in May 2021, citing an irretrievably broken marriage.
In the marriage dissolution documents retrieved by Radar Online, Moore mentioned the date of separation as September 19, 2019. She cited they were living in a bonafide state of separation since the day. 
The 50-year -old demanded sole physical and legal custody of their two-year-old daughter, Brooklyn. She also asked for a fair division of their marital debt and joint personal property, whether gifts or combined purchases.
A month after Moore's petition, Daly responded to the case with his suit. First, he asked for joint custody of their only child while allowing Moore to have primary custody. Then, he requested the court to grant him separate real and personal property. 
The restauranteur even demanded Moore to pay his legal fees. However, the court hasn't yet provided the decisions. 
Kenya Moore and Marc Daly's Relationship 
Moore and Daly's marriage treaded choppy waters from the very start. They married in June 2017 in an intimate wedding ceremony and welcomed their daughter in November 2018. 
Brooklyn was just about to celebrate her first birthday when Moore and Daly separated for the first time in September 2019. The mother-of-one announced the separation, stating she was divorcing her husband. 
"Due to the recent and ongoing circumstances, I can no longer continue in the marriage," she reasoned her decision. Moore also expressed her sole concern would be her miracle baby and asked for privacy from her followers.
Despite the public rift, the twosome reconciled. Moore said to Andy Cohen in April 2020 that she and her husband were getting along better than in previous times. She even detailed how there were no more fights or disagreements. 
But in January 2021, the netizens saw them separating again. This time, Daly opened up about the situation to The Root and revealed they had agreed to end their marriage. 
I will always have a great care for her and look forward to amicably continuing to co-parent our daughter Brooklyn.
And as the pair headed for their divorce, Moore talked about their relationship to SiriusXM's Amy Phillips in February 2021. She even asserted that they were in a good-parenting relationship. 
Instagram Vs. Reality
Moore took to Instagram to celebrate 2021 Father's Day on June 21, providing glimpses of her healthy bond with her ex-husband and her daughter.
She uploaded memorable moments of the father-daughter duo and wrote that he would forever be their family. The television personality also mentioned they loved him very much.
While the Instagram post hinted at their beautiful relationship, no one knew the drama brewing behind the love-filled updates.
Moore's divorce filing from May only made it to the headlines in August. 
And as soon as that happened, surprising allegations of domestic violence and filming restrictions for their daughter surfaced out. It turns out Moore had filed a separate case for custody and support for her child in June.
One of the main agendas was to earn rights to feature her daughter in RHOA, which the SoCo owner had not approved of.
Favoring Mooer, the judge permitted Brooklyn's appearance in the show in "age-appropriate" scenes under a condition — the Detroit native has to inform Daly about the filming every time.
The judge stated he decided so after hearing about the disputed instances of domestic violence in Moore's testimony. The court also ordered both the party to work on less disparaging communication. 
Apart from child protection, the duo is also fighting over the Moore Manor.
While Daly's attorney claimed he invested his money in the property, Moore defended the manor, saying she bought it before her marriage in 2015. 
Since Moore and Daly haven't signed prenuptial agreements, more conflicts regarding their finances can be expected to follow in their divorce saga.