What Happened between Kendall Vertes and Boyfriend Caden?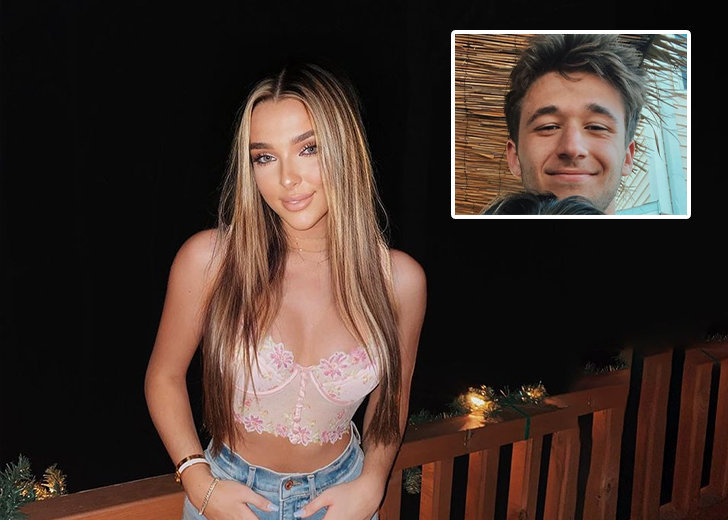 Kendall Vertes and her boyfriend Caden Woodall went public with their relationship on TikTok on April 1, 2021. When she revealed Woodall was her boyfriend, the two were vacationing with a group of friends in Florida.
Following the reveal, the Dance Moms star and her boyfriend made several videos together. The duo also frequently posted about each other on their social media accounts.
But they stopped doing so and even deleted content about each other. Because of this, many people believe the two are no longer dating.

Kendall Vertes with Caden Woodall. (Source: Kendall Vertes' TikTok)
Vertes and Woodall have made no comments regarding their relationship, and it's not known if they are still dating.
It may also be possible that they have just decided to go private with their love life and thus removed their posts about each other.
Who Is Caden Woodall?
Like Vertes, Woodall is also a TikToker with a huge following. As of January 2022, his TikTok account has over 1.8 million followers and 22.9 million likes. He also has over 230 thousand followers on Instagram.
He initially went viral on the video-sharing platform in November 2020. He had posted a video of him and his football friends singing Justin Bieber's 'Eenie Meenie' in the locker room.
As he was sporting his No.7 jersey in the video, he soon got popular as the No.7 guy on TikTok. Much of his content on TikTok has to do with singing and dancing.
Aside from the two aforementioned activities, Woodall is also an athlete who plays football for Harvard University.
He first shared he was committed to Harvard University on August 22, 2020, via a tweet. There, he wrote playing college football had been his dream and thanked his family, who helped him make it a reality.
Kendall Vertes and Caden Woodall's Relationship
Vertes revealed she had a new boyfriend on April 1, 2021, which was also Woodall's birthday. She broke the news through a TikTok video where she could be seen riding a bike behind Woodall.
"I swear I'm living in a dream right now," she wrote, followed by a heart emoji.
Two weeks before her post, Woodall had posted a video of him and Vertes dancing near a golf cart on his TikTok.
While she had shared that the two were dating, she didn't reveal when or how they got together. However, she had claimed to be single during Valentine's Day, just two months prior.
After going public with their relationship, both Vertes and Woodall actively posted about each other for quite some time. However, they have since deleted their posts about each other.
Kendall Vertes' Dating History
Before dating Woodall, Vertes had been romantically linked to two men. 
Her first boyfriend is John Rink, whom she dated back in 2019. Aside from that, not much is known about their relationship or why they broke up.
Following her split from Rink, Vertes moved on with Austen Swankler. The two started dating in 2020 and went their separate ways in 2021.