Kelly Rowland's First Son Was Excited to Meet His Baby Brother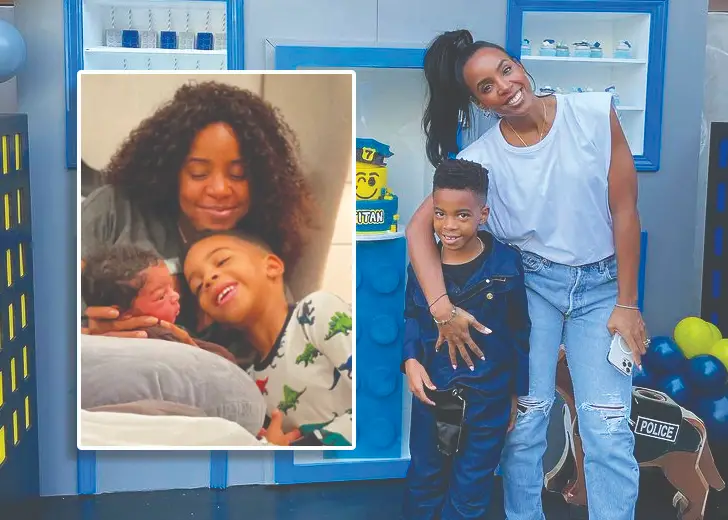 Kelly Rowland and her husband, Tim Weatherspoon, dated for years before tying the knot in Costa Rica on May 9, 2014. 
The couple started a family soon after, welcoming their first child, a son named Titan Jewell, on November 4, 2014.
"We are thrilled to announce that today we are the proud parents of our first son. We are blessed to report everyone is healthy and happy!" they said in a statement according to Billboard.
Seven years later, the couple welcomed their second child, Noah Jon Weatherspoon, on January 21, 2021.
She announced the joyful news on Instagram with an adorable shot of her newborn baby spending time with their older kid. 

Kelly Rowland and her husband with their older son and his baby brother. (Source: Kelly Rowland/Instagram)
Before this, the songstress had opened up to People about expecting her second child and how her older son couldn't wait to meet the baby. 
She shared Jewell was excited and even named their newborn.
The mother-of-two joked he didn't know what he was in for, as he would not get all the attention he used to. 
Kelly Rowland Shares Birthing Experience of Her Second Son
Rowland shared details about the birth of her second child during her appearance on The Ellen DeGeneres Show with guest host Kalen Allen.
She revealed she gave birth while her family watched on through Zoom. 
"Well, you know, the last time when I had Titan, my family was there and this time they weren't and, you know, everybody was feeling a certain way about that because we like to be at each other's births," noted the singer. 
She added everyone got on Zoom call and kept the tradition alive, but she assured only proper angles were shown.
The former Destiny's Child member shared she wanted to try things differently with her second son. 
When her first child was born, her labor was induced, but with her second baby, she wanted to feel everything naturally. However, she quickly realized it wasn't easy as it looked in the movies. 
After her water broke, the labor went from zero to 100, making her realize it was not something she could bear. 
As for having another child, Rowland said her hands were full from having two boys and that her second baby was her last.
Kelly Rowland on Being a Working Mom
Needless to say, the songstress is quite busy, working a full-time job as a celebrity and caring for her two boys. 
In an interview with Essence, she revealed she balanced her work and family by figuring out ways to bond with her sons. 
When her kids were young, she took them with her to her work. When they grew up and could stay without her, she would find creative ways to provide them time when away from home.  
The singer would also read to her boys over Facetime, or she would do a scavenger hunt with her kids. Rowland would hide things before they left and have them find them after. 
Despite the distance, she made sure her boys knew they were in her thoughts and heart.