Kelly Bishop's Husband Lee Leonard Was the First Voice of ESPN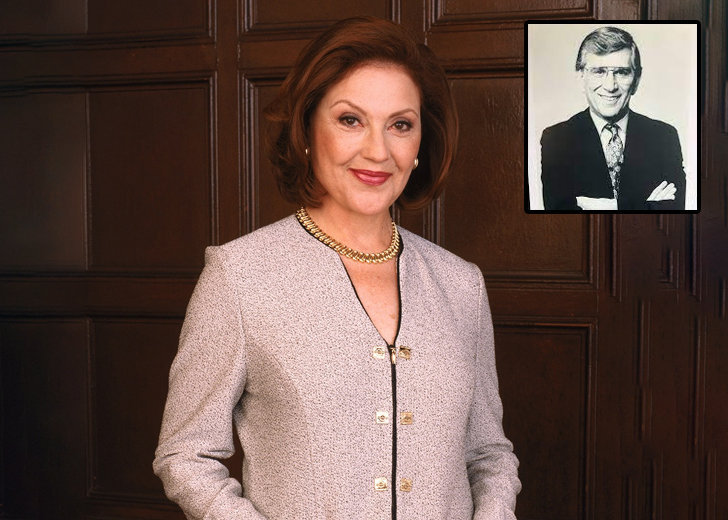 Kelly Bishop, best known for her roles as matriarch Emily Gilmore on the series Gilmore Girls and Marjorie Houseman in the film Dirty Dancing, had a happy marriage with her late husband, Lee Leonard.
She was married to him from 1981 until his death in 2018. The couple also had a daughter, Norma Sheryl Leonard, from their long-lived marriage.
Here's everything you need to know about her late husband.
Kelly Bishop's Husband Was a TV Talk Show Host
Bishop's husband Leonard, born in April 1929, was a television personality who played a crucial role in the launch of cable television networks ESPN and CNN.
He was also the first voice of ESPN, as he introduced the network to a small audience on the day of its debut in 1979.
Moreover, he was approached by the executives at ESPN to co-anchor SportsCenter, which was then envisioned as the network's flagship news and highlights program.
Hence, it was the program's inaugural broadcast that launched the network, and Leonard delivered the first words for the show. The network eventually went on to become a television empire.
Lee Leonard Worked at ESPN for Only Six Months
Despite being the first voice of ESPN, Leonard ended his stint at ESPN after about six months.
Why? Because the network was first introduced as an entertainment and sports programming network, but as time passed, it didn't live up to the entertainment part of its title.
That also denied him from covering show business in so many ways.
"I was tired of sports," he told the author James Andrew Miller for Those Guys Have All the Fun, an oral history of ESPN.

Sports commentator Keith Olbermann paid tribute to Kelly Bishop's husband and TV host Lee Leonard. (Photo: Twitter)
He added, "So when it became obvious to me that there wasn't going to be any entertainment, brilliant me, I thought this thing was never going to work. So my agent called me and said, 'There's this crazy guy, Ted Turner, who's doing a news network.'"
He subsequently moved to CNN in 1980 and went on to host the entertainment show People Tonight. But he was replaced in 1982 by Mike Douglas, the longtime syndicated talk-show host.
Leonard later returned to CNN for several years in the 1980s to host Showbiz Today.
All that said, one of his biggest regrets in life was leaving ESPN as soon as he did.
Speaking with the NY Times in a phone interview, Bishop stated that he loved sports but also wanted to do talk shows and interviews. "So he got pulled in that direction to CNN," she added.
Sending lots of love to Kelly Bishop after hearing of her husband's passing yesterday.
We know that the Gilmore Girls fans are rallying behind her and praying for her and her family during this time. ♥️ pic.twitter.com/g1Ttrl6vez — Gilmore Girls ☕️ (@GilmoreGirrls) December 20, 2018
The actress also shared, "Through the years, though, he said he should have stayed with ESPN. He was kind of always starting something new."
Later in his career, the famed actress' husband hosted Jersey's Talking on News 12 New Jersey and a public affairs program on the New Jersey-based cable network CN8.
Lee Leonard's Family Life
In terms of children, over their long marriage, Bishop and Leonard only had one daughter. But the couple was happy with what they had.
When Bishop was still alive, he welcomed a grandson, whom his daughter welcomed with her partner.
Besides the actress, the late television personality was previously married to Rona Rosenberg and Salome Jens.
On the other hand, Bishop was also married to Peter Miller before meeting her longtime husband when he interviewed her on Midday Live.