TikTok Star Ked Merwin Reveals His Boyfriend — Is He Gay?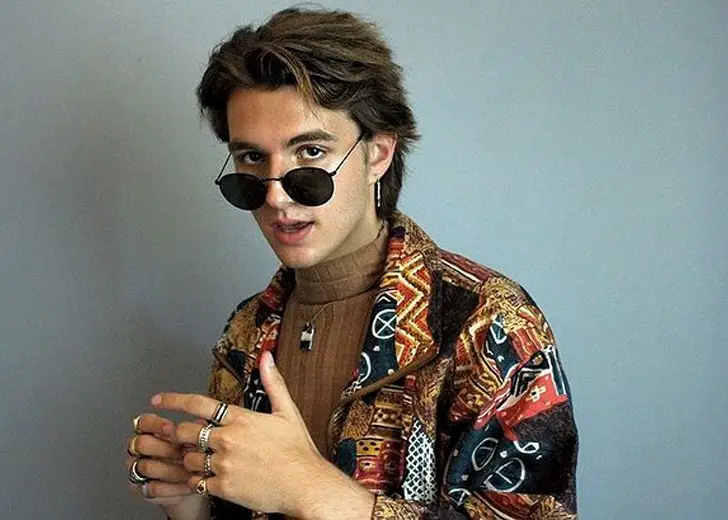 TikTok celebrity Ked Merwin revealed having a boyfriend through a TikTok video dated January 8, 2022.
"Giving the people what they want" read the caption for the clip that featured glimpses of his boyfriend, Nathan Gutman, goofing around and being a cheerful person.
"Meet Nathan," he penned, introducing his partner to his fans.
The content creator used Andrew Garfield's famous audio titled "a shot of espresso" as background music for the romantic post. 
Ked Merwin Had Hinted about His Boyfriend
Before revealing that he is dating Gutman, Merwin had dropped a few hints about his budding romance to his followers through his socials.
On December 25, 2021, he posted a video of him lip-syncing to Olivia Rodrigo's 'Drivers License.' The footage saw Merwin pretending to be heartbroken while reacting to the sad lyrics. 
In the caption, he wrote that he listened to the artist even though he was in a "happy relationship."

Ked Merwin with his boyfriend, Nathan Gutman, in May 2021. (Source: Instagram)
After that, Merwin posted a response video for a fan who had commented, "Bro you got a relationship? Lucky."
He did a lip-sync to a sound clip from Spongebob Squarepants in which the cartoon subtly boasts about having 74 stars.
Then in the caption, he hinted at having a boyfriend. "It's all i wanna talk about lol i'm obsessed w him [sic]." 
He also dropped a few hints on Instagram with pictures of him and his boyfriend having fun with their friends.
Is Ked Merwin Gay?
Despite announcing his dating status and revealing his partner, Merwin hasn't yet confirmed being gay.
That being said, he hinted about his sexuality on a TikTok video dated July 8, 2021. In the post, he tagged himself as a pansexual.
He remarked that the bible said to "love everyone." And imitating being a pansexual, he happily agreed to it.
Merwin came out to his mom when he was in the fifth grade, as per a TikTok video. The video suggested that he had a harder time opening up to his father and took help from his mom.
How Did Ked Merwin Rise to Fame?
Merwin, whose full name is Kedrik Merwin Jr., initially rose to fame from a TikTok video where he tried to color code M&M's.
The video is particularly interesting as the TikToker is color blind. Shortly after it went viral, Merwin posted an update to it on YouTube where he detailed his condition.
As per his accounts, he can't differentiate red from green, which was pretty obvious in the video titled, "So I think I got most of it- let me know".
He visibly had trouble separating red colors from green.
Eventually, Merwin shifted his attention from making TikTok videos to becoming a singer and an actor.
He released his first EP M-22 on July 9, 2021. He had written the songs featured on the EP by himself, some a year ago before the release.
The social media star has also done a movie named Quicksand which is a bromantic comedy.