Who Is Kay Flock and Why Is He in Jail? Know Why He Was Arrested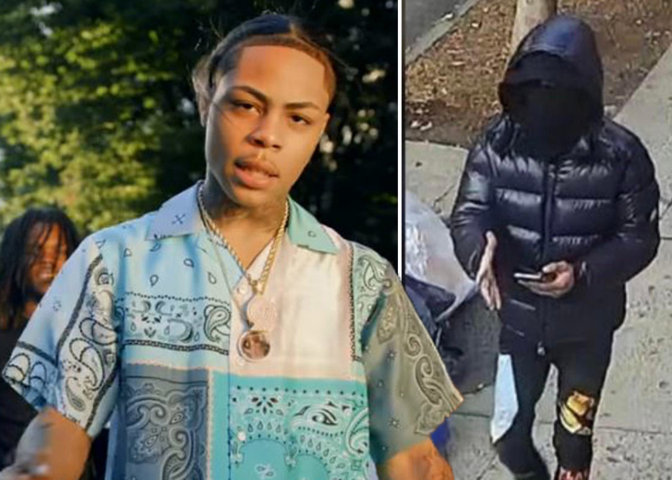 Rapper Kay Flock has been arrested in relation to the New York City Barbershop killing, and is currently in jail.
Flock's attorney, Scott Leemon, confirmed his client's arrest in a recently released statement.
In the said press release, the attorney acknowledged his client's alleged involvement in the murder of a 24-year-old who was shot and killed outside a Harlem-based barbershop.
Kay Flock Arrested after His Surrender
The wanted poster issued by the New York City Police Department states that on December 16, 2021, at approximately 9:53, Flock discharged a 9mm firearm at the victim, leading to the victim's death.
Flock's victim, reportedly identified as Oscar Hernandez, died in front of 1836 Amsterdam Avenue in New York, NY.
According to the police, the perpetrator had a history of gun charges and was considered armed and dangerous during their search mission.
Further, the police record stated Flock as a known member of the Thirdside Gang.

Statement Released by Kay Flock's Attorney Scott Leemon. (Photo Credit: Instagram)
On December 23, 2021, the Police Department took to their Twitter and announced Flock had been arrested and was in their custody. 
In their tweet, the police thanked the 30th Precinct Detectives, investigators, and law enforcement partners for their support.
As per reports, following their short-lived argument, Flock had a confrontation with Hernandez outside the barbershop, which made the rapper pull a gun and shoot the victim on his neck and back.
The attorney of the accused, in his statement, confirmed his client was arrested following a self-surrender. 
Leemon further mentioned his team would be conducting an independent investigation after demanding access to surveillance footage from the place of the incident.
Flock's initial hearing will take place on Thursday, December 29, 2021, in Manhattan Criminal Court.
Kay Flock: His Real Name, Net Worth, and Girlfriend
Flock, real name Kevin Perez, is understood to be of Puerto Rican origin and is currently 18 years of age. As per reports, the rapper celebrates his birthday on October 1.
In November 2021, the budding rapper was named Billboard's R&B/Hip-Hop Rookie of the Month.
During his sitting with Billboard, Flock reflected on his acclaim and spoke at length about his career.
"It feels great. I ain't gonna lie, because I never even thought I would get here," Flock told Billboard
Flock has an estimated net worth of around $42000, as of this writing.
According to Flock, he initially had no intentions of becoming a rapper. He said, as a teenager, he spent his time watching "mad videos" of other Bronx artists.
However, at some point, a young Flock started making songs purely for fun.
He continued doing so until he decided to self-release one of his songs which led to him being signed by a record label.
During the chat, the rapper claimed he never wrote his lyrics; rather, he freestyled it. 
"The way I rap, I don't write anything down," said Flock.
The rapper then touched upon the topic of his mom, who used to discourage Flock from listening to rap music, especially by his favorite artists Chief Keef, and L'A Capone.
"You're not about to listen to all that," Flock recalled what his mother used to tell him.
Further, the rapper remarked his mom to be "the best" and revealed he could not have asked for anything better.
Talking about his love life, rapper Flock has remained relatively secretive about his relationships.
Reportedly, he was in a relationship with someone named Dolly in the past.
And at present, he is understood to be in a relationship with Kayla, who is widely rumored to be his girlfriend.
She used to go by the name bigkaylabayla on her now-deleted Instagram account.