Katie Thurston Takes a Leap on Valentine's Day with Boyfriend John Hersey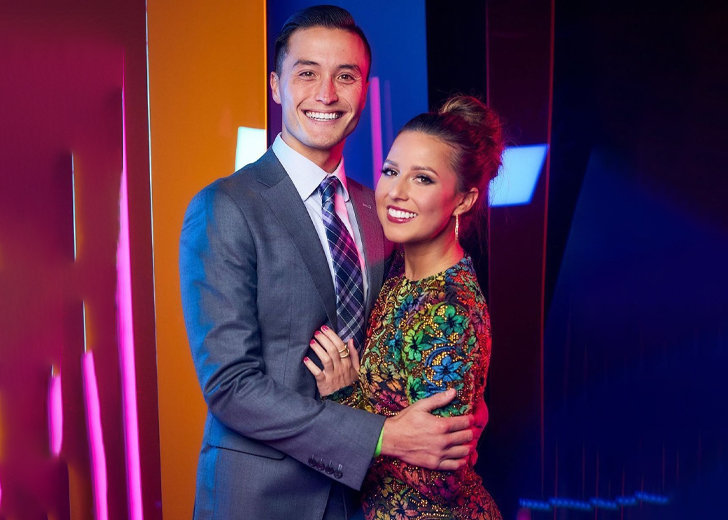 Katie Thurston has been dating her boyfriend, John Hersey, since she split with her former fiance Blake Moynes in October 2021.
This is a reunion for the couple after their The Bachelorette filming days.
But Thurston is already going on adventures with Hersey. She spent days leading up to Valentine's Day 2022 doing exactly that with her (relatively) new boyfriend.
She flew around with Hersey for some adrenaline rush.
Katie Thurston Took a Leap of Faith with Boyfriend
Thurston and Hersey both took to Instagram to post about their sky diving trip together.
On February 9, Thurston uploaded a picture with Hersey and their skydiving instructor friend, Victor Oraha. All three were fully kitted in straps, buckles, and other skydiving requirements.
'Just a bunch of crazy kids getting ready to jump out of a plane," Thurston captioned the post. Hersey replied fittingly, writing, "Vaya con dios" in the comments, literally translating to "Go with God."

Katie Thurston with her "every day Valentine" boyfriend John Hersey on their skydiving trip. (Photo: John Hersey/Instagram)
That same day, Hersey, too, posted a picture with Thurston in the same outfits. They were walking hand in hand towards the camera. "Take the leap," he wrote in the caption.
Then, on February 13, the Bachelorette star finally posted the video of their jump together with the caption, "Our first jump together!"
At the start of the video, they were seen driving to the airport. Then, it cut to them sitting on the plane moments before they jumped out.
Oraha was strapped with Thurston and Hersey was going solo on the dive.
Then comes the jump. Thurston looked elated throughout her time in the air, as seen from her boyfriend's perspective. Her landing was as smooth as her journey through the air.
"You little adrenaline junkie you," Hersey cheekily wrote in the comment section of the video. Thurston replied with, "I blame you" implying she had got the adventure bug from her boyfriend.
Katie Thurston's Valentine's Day Post for Hersey
After the adventures together, Thurston made a long, adorable post about her relationship with her "every day Valentine" on Valentine's Day.
"My heart danced in a way that was new. A crowded room but felt like us two," Thurston began the poetic caption as she expressed how it had felt to fall in love with him.
He had made her believe in cupid and love at first sight.
Hersey had also energized her soul, "ignited" her world, and made her whole again.
"I can't help but think we were always meant to be," she gushed at the end of her writing.
For the picture, she chose a selfie with him. The backdrop was nothing but blue skies, a bright sun, and a blue ocean as far as the eye could see.
It was one of the snaps they had taken during their trip to Cabo San Lucas, Baja California Sur, in Mexico.
The couple looks smitten, as if they have been together for a long time. However, it's just been a few months since they started dating.
Their journey began during her season of The Bachelorette in March 2021. But she sent him home as the second week of the show approached.
However, despite his early exit, he held no grudges. And they also maintained a good friendship when she was engaged to Blake Moynes.
Thurston and Moynes broke off their engagement and ended their relationship in October 2021. By next month, she had moved on with Hersey.