Get To Know Kathryn Hahn and Husband Ethan's 'Circus' Family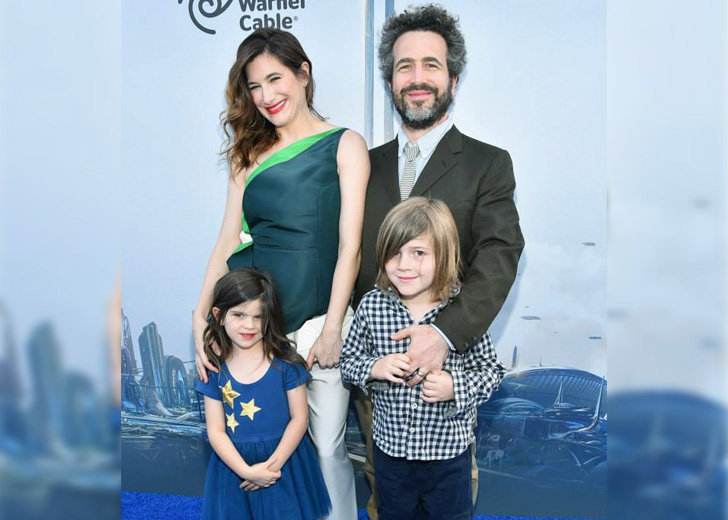 Kathryn Hahn, who plays the famous Agatha Harkness in WandaVision, has been in a long-lasting relationship with her husband, Ethan Sandler. The pair met during their college days at Northwestern University and studied theater together. 
Shortly, they bonded over their love for arts, living together in the dorms. Once they completed their study programs, the duo moved to New York City to pursue a career in acting. 
They marked a name in the entertainment industry. While Hahn made herself known for her critically acclaimed acting prowess in TV shows and movies like How to Lose a Guy in 10 Days, Revolutionary Road, and Step Brothers, her partner made it big as an actor, film producer, and writer. 
Sandler is best known for portraying ADA Jeffrey Brandau in the 2001 drama Crossing Jordan alongside Hahn as Lily Lebowski. Here's a quick rundown on Hahn's family life with her husband and kids. 
Kathryn Hahn and Her Husband Have Two Children
Hahn and Sandler tied the knot through an intimate wedding on January 3, 2002.
Four years after the big day, the couple welcomed their first child, son Leonard, in October 2006. Then, the family bliss multiplied as they welcomed their only daughter Mae on July 27, 2009. 
"Mommyhood has just been the best, hardest, most overwhelming thing that's ever happened to me," Hahn told a regional portal Cleveland in September 2017.
The 48-year-old also shared traveling for work had become complicated since their children went to school. But to talk themselves out of the guilt cliff, Hahn and her better half admittedly thought of themselves as a circus family.
"They're circus kids. They were born into a circus," the Westchester native stated, implying that her family had to move around places for work and opportunities. 
Hahn's Kids Are Proud of Her 'WandaVision' Role
Hahn received wide acclamation for her villainous portrayal of Harkness in the Disney+ series, WandaVision. And not just her fans and followers, but her family members — especially her kids — are proud of her acting performance. 
"No one can really admit to their mom that they're cool," Hahn stated during an interview on the People Every Day podcast in March 2021. However, she mentioned she understood and respected such hesitation. 
But, she disclosed her kids were definitely "a little bit, I would just say, suspiciously nicer" to her. "So I feel like I'm going to take that as a huge compliment. They're definitely proud for sure," the talented actress added at the end of the conversation.
The children's pride, however, is limited solely to the TV screen. In another interview with People in September 2021, Hahn revealed her son was embarrassed to see her practicing her witch moves in their house.
"He was like, 'Oh my God, Mom!' Like it was as if he just saw me just getting out of the shower," she elaborated. Despite the mixed responses, watching WandaVision became a family affair for the Sandler clan. They watched the episodes together every week from their house in the Silver Lake neighborhood of Los Angeles.