Here's How Katee Sackhoff Is Living It up with Her Newlywed Husband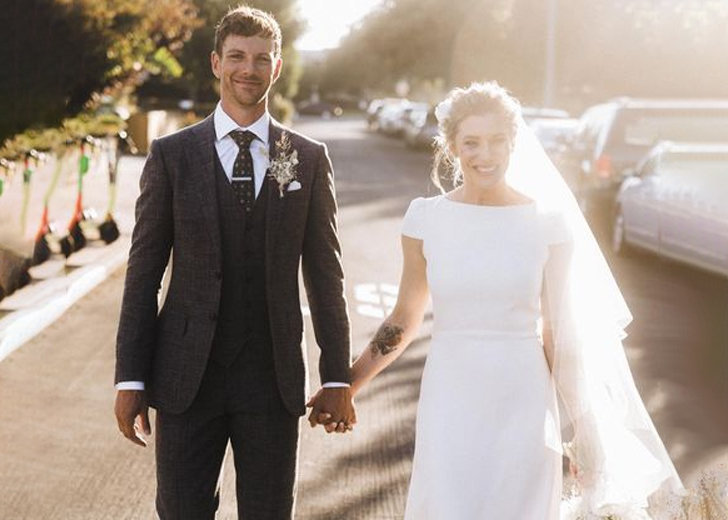 In October 2021, actress Katee Sackhoff tied the knot with writer and producer Robin Gadsby.
The wedding was an intimate ceremony filled with love and blessings from close friends and family members.
"Two weeks ago surrounded by friends and family I married a man that is far too good for me," she wrote on Instagram, confirming her wedding.

Katee Sackhoff and her husband Robin Gadsby at their wedding. (Photo: Instagram)
She added, "How I pulled that off I'll never know but I'll spend the rest of my life aware of that fact and striving to be the person he already thinks I am daily. @robin_gadsby."
Look at Katee Sackhoff's Wedding
Not much was revealed about her relationship or wedding prior to the actual big day and the subsequent announcement post.
The first hint was dropped when she posted a picture of her wedding gown and a "17 yr old magnum bottle of Insignia [sic]" on October 5, 2021.
"Tell me you had an amazing wedding without telling me you had an amazing wedding," she wrote in the post.
The post was followed by the earlier mentioned wedding announcement post, which revealed the wedding picture and the details of the big day.
In the black-and-white picture, the bride wore her wedding gown and carried a bouquet, while the groom sported a three-piece suit.
The newlywed couple also held each other's hands, as they walked down the aisle.
Katee Sackhoff and Husband Are Living Happily
Following the wedding, Sackhoff has become an open book when it comes to her life with her husband, Gadsby.
The Battlestar Galactica star regularly takes to Instagram to update her followers about her day-to-day life and how she and her husband are managing a happy marriage.
For instance, she dedicated 2022's Valentine's Day post to her beau, sharing a polaroid picture of them together. "My forever Valentine," she also wrote in the caption.
Likewise, Gadsby also implied in his New Year 2022 post that the highlight of 2021 was the moments he shared with his friends and family.
The actress' husband added that he was grateful for his wife because they had beautiful moments together in the last year.
The Couple Is Also Parents to a Baby Girl
Just over a month after their wedding, Sackhoff and Gadsby were blessed with a baby girl on December 6, 2021.
"Christmas came early for us this year. We welcomed Ginevra Grace Gadsby on Dec 6th," the actress wrote on Instagram, revealing her baby's name and birth date.
Since then, she and her husband are often seen playing with their little one and enjoying their parenthood phase.
Katee Sackhoff Previously Dated Actor Karl Urban
Sackhoff's current happy family life has evidently come after a couple of her failed relationships.
One of those relationships was with New Zealand actor Karl Urban, whom she met traveling with members of their respective families in 2014.
They soon became close to each other, and by early 2015, their romance was public.
But the relationship didn't go the distance. The two ended their relationship around 2018, with Urban confirming it during an interview in August 2019.
The actress was also in a relationship with long-time boyfriend Scott Niemeyer, a producer, before romancing Urban.