Who Is Kate McKinnon Dating? Meet the Comedian's Partner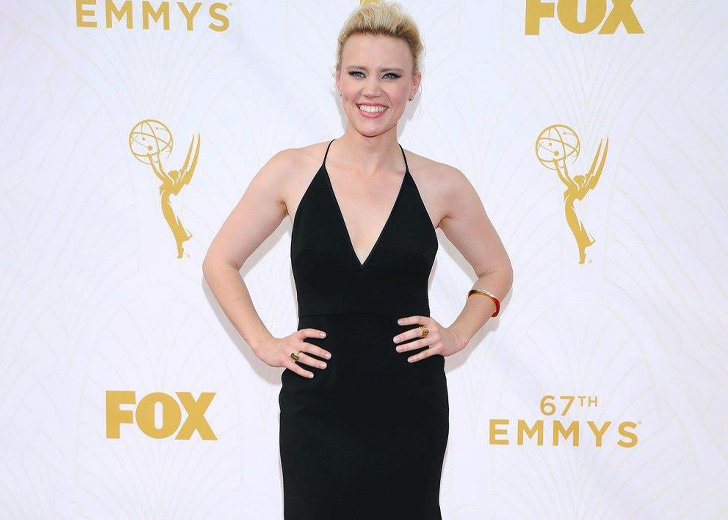 Kate McKinnon, best known for her character work and celebrity impressions on Saturday Night Live, is openly lesbian.
But despite being in the spotlight and open about her sexuality, she is also very private about her personal life and has no social media presence.
"I send emails, and I send text messages to about five people," she said of her social media presence during her appearance on The Hollywood Reporter's roundtable interview in August 2016. "Other than that, it's absolutely zero."
When asked if she stayed away from social media on purpose, she admitted to it and stated that she was "very frightened" of saying anything.
She then explained she was scared her words could be misinterpreted on such public platforms.
The downside of the privacy for her fans is that they mostly stay in the dark about personal life — like her dating status and details about the partner.
Kate McKinnon's Last Known Partner Is Jackie Abbott
The last time we knew about her partner was when she was dating a fellow performer, Jackie Abbott.
McKinnon's relationship with her partner, Abbott, came to light when they stepped out as a couple at the 2017 Emmys. Even though they didn't walk on the red carpet together, they sat next to each other.
Later, the SNL star won the award for Outstanding Supporting Actress in a Comedy Series, and Abbott hugged McKinnon before the performer went to the stage to collect her award.
"Thank you, Jack! I love you," McKinnon said in her winning speech.
On that day, American radio DJ Michelle Visage also shared a group picture, including McKinnon and Abbott, from Emmys backstage and introduced Abbott as McKinnon's "lovely" girlfriend.
Fast forward to November 2021, and it is unclear if they are still together. And if they split, it is unknown who McKinnon is dating or if she is single at present.
Kate McKinnon Does Not Feel Comfortable Sharing Personal Details
Besides her previous statement, saying she feared sharing her personal details, McKinnon also spoke with GQ in another interview regarding the same topic. During the conversation, she stated she was the antithesis of an over-sharer.
"I get criticized by people who know me the best for not sharing enough details about my day or my life. I am just quite an insular person, I guess," she said.
The comedian then added that she was in her mid-20s when she realized she was uncomfortable sharing personal details.
McKinnon stated, "I just...I decided in my mid-20s that I didn't feel comfortable sharing personal details like I had in the previous few years. And I just have run with that ever since."
Kate McKinnon Candidly Talked about Being 'Gay' at the Golden Globes
The Saturday Night Live cast member was not really in the closet since she was open about being a lesbian for years, but her sexual orientation was not talked about like other celebrities.
However, that changed when she spoke about being 'gay' and the role Ellen DeGeneres played in her understanding of herself. She became candid while presenting the Carol Burnett Award to DeGeneres at the Golden Globes in January 2020.
A part of her long speech read:
And if I hadn't seen her on TV, I would have thought, 'I could never be on TV. They don't let L.G.B.T. people on TV.' And more than that, I would have gone on thinking that I was an alien and that I maybe didn't even have a right to be here. So thank you, Ellen, for giving me a shot. A shot at a good life, and thank you also for the sweater with a picture of the baby goat on it.
Her success has inspired many individuals to follow in her footsteps.