Kane Brown's Wife and Daughter Tag along on His Tours - Inside the Country Singer's Family Life
Kane Brown's wife Katelyn Jae is also a singer.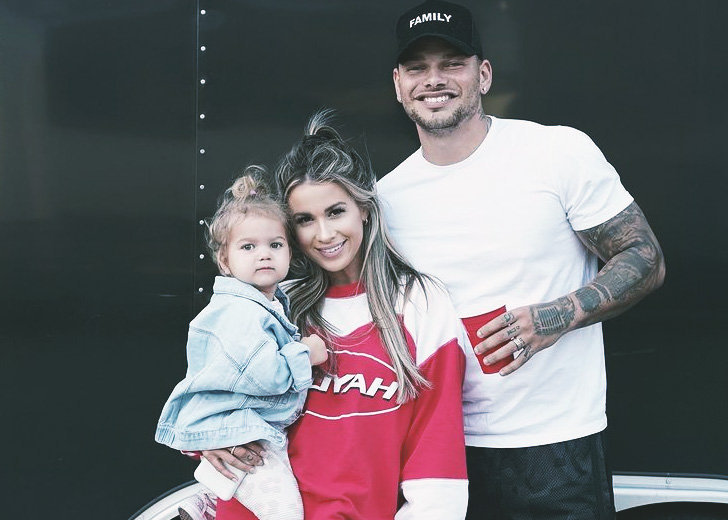 Singer and songwriter Kane Brown is happily married to his wife, Katelyn Jae. He exchanged his wedding vows with her at the Mint Spring Farm in Nolensville, Tennessee, on October 12, 2018, in the presence of 200 relatives and friends.
Fast forward to the present, and the couple is parents to a beautiful daughter, Kingsley Rose Brown, who they welcomed in October 2019.
Special Visit from His Wife and Daughter
The family of three has a very strong bond between them. And it comes as no surprise that Brown's wife, Jae, and his daughter gave him a special visit when he was performing on the road earlier this year in July.
Jae posted a series of snaps from their adorable reunion on Instagram on July 19, where the singer was spotted spending time together with his family backstage. 
In the snaps, the little one had on a pair of oversized headphones to protect her hearing at the concert while Brown wore a blue hat printed with the word "Family."
"Had such a special weekend with the family!" the singer's beloved wife wrote in the caption. "Finally got to go to daddy's shows! thank you @alexalvga for always capturing the most special moments."
The 27-year-old family man had also posted a picture with his wife and daughter a day earlier than his wife's post on Instagram, writing, "The fam got to come out this week."
Kane Brown and His Wife Katelyn Jae's Relationship
The admirable relationship between Brown and Jae first started around 2015 after the two communicated through Instagram.
Speaking with Taylor Magazine, Jae, who is also a singer, revealed that they first met when they were working with the same producer. But they never grew close to each other at the time.
However, sometime later, they came across each other again, and subsequently, Brown made the first move by messaging her on Instagram. In the text, he asked her if they were going to hang out.
Her reply was yes, and he soon flew her down to Nashville for a dinner date. Since then, they have been inseparable. The same year, she joined him on tour and shared a bunk bed with him on the tour bus. 
That said, their relationship was under wraps until January 2017. Brown finally made their romance public with a heartwarming Facebook post.
Over a year later, they walked down the aisle in a traditional wedding ceremony in Tennessee. On a special day, they exchanged handwritten vows, saying, "We decided to exchange letters to each other earlier in the day and keep the actual vows a little more traditional."
Details about Katelyn Jae
Jae is also passionate about music and is a talented singer herself.
She was singing karaoke when she was just 3. And when she was in the 6th grade, she sang a near-perfect rendition of Celine Dion's 'My Heart Will Go On,' provoking her parents to enroll her in vocal and piano classes.
She eventually studied at Downingtown High School, where she built her aptitude in creative arts, especially music.
Jae even made it to the top five singers of the International Model and Talent Association conference in 2008 and was featured among the 23 female US representative singers at the 2010-11 Avon Voices. In 2014, the Pennsylvania native released her music video, '24KT,' which is one of her biggest hits.