Kaitlin Olson and Husband Rob McElhenney's Hollywood Love Story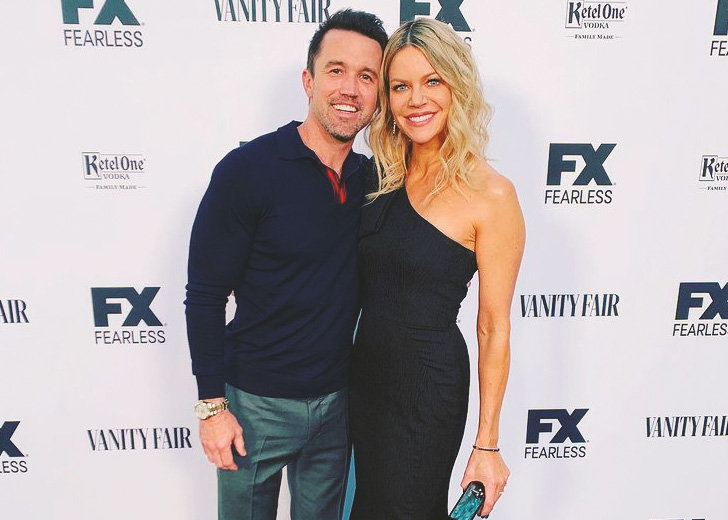 Kaitlin Olson and her husband Rob McElhenney are probably best known for their roles as Dee Reynolds and Mac from the longest-running live-action sitcom It's Always Sunny in Philadelphia. 
While their relationship on-screen is amicable, the chemistry they have off-screen could arguably be made into a sitcom production of its own. 
Kaitlin Olson Recalling Early Days on Her Husband's Show
During a recent sitdown with Armchair Experts podcast, Olson relived her early days on the show, outlining the first few years of her relationship with her now-husband.
The story dates to when Olson had yet to become a household name and yet to meet the man she would tie the knot with.
When she made the audition tape for It's Always Sunny in Philadelphia, her iconic role hadn't even been written into the show. 
Still, she noticed how brilliant a writer McElhenney was and agreed to take on the character if he wrote her into the show, which he obviously did. 
Kaitlin Olson & Husband Didn't Like Each Other Right Away
Initially, things weren't looking too bright for the couple. Olson had once told Entertainment Weekly that she didn't think that McElhenney was cute when she first saw him.
But, in her defense, she would gladly retract that comment. 
Further along in the podcast, Olson recalled her first impression of McElhenney. She confessed, 
Halfway through the first season, talk about types, he just ... he was just so easily in charge. He really just has a vision and he's just a wonderful boss and he's a collaborator, but at the end of the day, he's very comfortable taking in information and then just making a decision.
Soon enough, Olson started appreciating McElhenney's company, and one night at a Fox party, things escalated when she made the first move. 
Kaitlin Olson Made the First Move
Olson recalls it being an awkward encounter. Olson, McElhenney, and a bunch of other cast members were out watching a game. Olson was leaning on alcohol to help her ease through the nervousness of being around McElhenney. 
Eventually, she sat down with McElhenney and backed up between his legs to the point that she was practically on his lap. 
"And he was just like, 'What—what are you doing?'" she recalled. Things took an upward trajectory from there on out. Olson realized she had feelings for him and quickly noticed that it was unlike anything she'd felt before.
As for McElhenney, it took a while for him to realize. Olson claimed to have understood his feelings before he did. At this point, the two of them were already secretly dating. 
Kaitlin Olson & Husband Fast-tracked Their Relationship 
The relationship was under wraps; even the castmates from It's Always Sunny in Philadelphia were unaware of the secret courtship until the show's second season in 2006. 
From here on out, their relationship took the fast track, celebrating a milestone every year. 
By 2007, the two of them were engaged. Come 2008, they were married. After that, they expanded their family, with their first son born in 2010 and another one in 2012. 
As of this writing, the couple has been happily married for twelve years and counting.