Is Jyoti Amge Married? Here Is Everything We Know about the World's Shortest Woman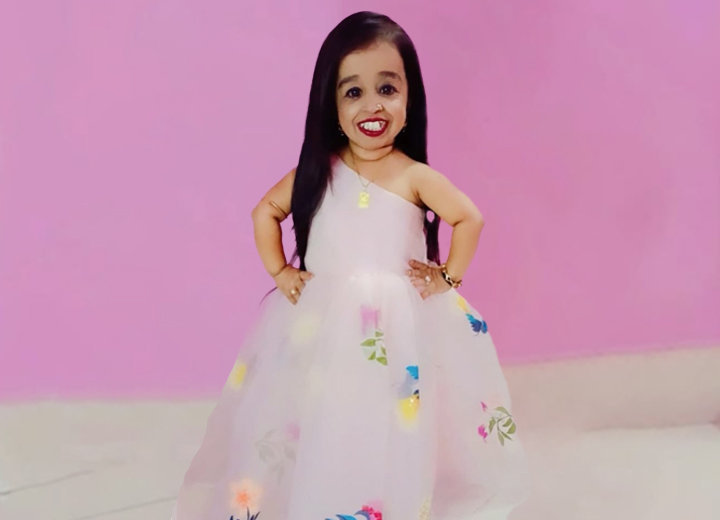 If you are a fan of the anthology horror television series American Horror Story, you probably know Indian actress Jyoti Amge. 
Standing at 2 feet and 0.6 inches (62.8 centimeters), Amge is the smallest living woman in the world, according to the Guinness Book of Records. Reportedly, her height is because of a growth anomaly called achondroplasia.
She is currently 28 years old and smaller than the average one-year-old, which is why she was cast as Ma Petite in American Horror Story season 4, subtitled 'Freak Show.'
Her character was an assistant to a sideshow leader, Elsa Mars, who took Petite under her wing, often carried her around, and treated her like a child. 
However, Petite met a tragic ending by the end of the season, and just like that, Amge's time on the show ended. Nevertheless, her appearance on the show was a success, and fans were intrigued by her life.
Is Jyoti Amge Married?
As a small-time Hollywood celebrity, Amge was a victim of internet hoaxes, one of which claimed she was married to a husband. 
In 2017, The Hindu reported the actress had filed a complaint against an Indian man who started circulating photos of his said "marriage" with her. 
"For two-three days, some pictures have been circulated on social media about the alleged marriage of my sister to a person of Indian origin in the U.S. We don't even know his name," Amge's sister Archana Amge said to the outlet.
She added  the person misused those pictures and clarified that Amge was unmarried. The images used by the man were taken during a fan meeting at one of the actress' tours to the U.S.
Although it was confirmed that she was still single in 2017, it is currently 2022, which means a lot could have happened in her personal life in the last five years. 
However, a quick scroll through her social media provides very few clues about her personal life; for all we know, she could be married secretly. 
Jyoti Amge Is Not Interested in Marriage
In 2020, the actress clarified she was not interested in romance in the trailer of her TLC special (via Entertainment Tonight).

Jyoti Amge with her American Horror Story co-star, Angela Bassett. (Source: Instagram)
The actress admitted to liking to flirt. She shared that while most of the boys she talked to were friends, sometimes they seemed to flirt a little with her. 
She did not mind playing along and flirted back. However, the outlet reported that Amge was not interested in dating or marriage and loved spending time with her family.
Amge also enjoyed her freedom and wanted to live her life on her terms. And even if a special someone came her way, she would allow nothing more than a close friendship.  
She did not explain her reason for it, but while talking to Entertainment Tonight, she shared that she wanted to continue acting and hoped to win an Oscar one day. It seems the actress is putting her ambitions before anything else.