Who Is 'Succession' Star Justine Lupe Dating? Inside Her Love Life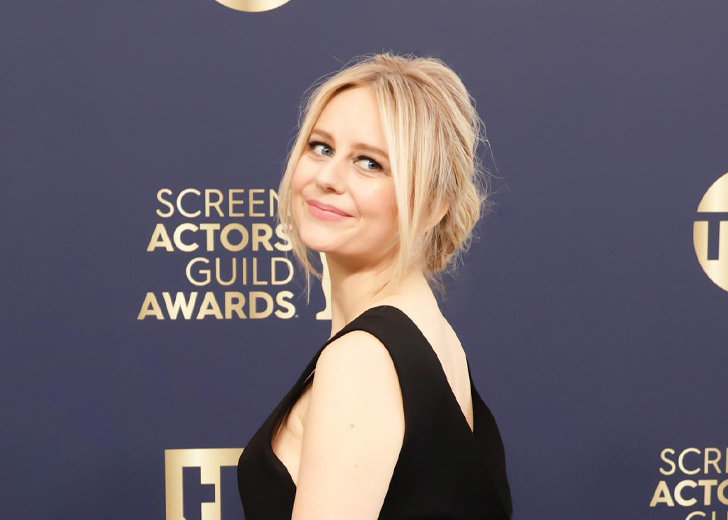 Justine Lupe got to act alongside her high school crush in Succession, which also put her on the map big time. She had a big crush on Matthew Macfadyen when she was little.
But, other than this, she is mostly silent about her love life, at least in public. She rarely talks about her dating endeavors, current or otherwise.
Her Instagram, however, gives away her dating life right now. It suggests she has a boyfriend, and he is also in show business.
Is Justine Lupe Dating Anyone?
According to a post on her Instagram from February 15, 2021, yes, she is. She has a partner she is romantically involved with.
On that day, she uploaded a few cute pictures and a video of her with her boyfriend. She tagged an account named Germain Gulick in one of the pictures.
The first two photos were polaroid-looking portraits of the couple, in one of which they locked lips. The third picture was just a candid shot of Gulick at a windy beach.
The fourth, a cute clip, was of him sleeping with her small dog, Lily.
"Happy belated to my [heart emoji]," she wrote in the caption, presumably a late Valentine's Day wish to her partner. "You are the warmest nook."
Other than this, though, there are no posts that directly mention him. There is, however, a post on March 20, 2021, where she mentions that "we" [meaning they] adopted their dog, Pocket, a year before.
Whether she meant she and her boyfriend or she and her family is a matter of mystery.
Gulick is Lupe's only boyfriend we know of by name. She mentioned having a boyfriend in high school during her interview with Insider in December 2021 but did not give any name.
During that same conversation, the actress revealed how she had a crush on Macfadyen while in school. She first grew a fascination with him after watching his performance in 2005's Pride and Prejudice.
That crush even led her to label her high school boyfriend's name as 'Mr. Darcy' in her phone. And when she got to do a few scenes with him on Succession, it was like a dream come true.
"I just love watching Matthew," she told Insider. "I think he's touched by some sort of acting God."
Who Is Justine Lupe's Partner?
Gulick, a Minnesota native, like Lupe, is a show business personality, albeit way less famous than his other half. Both Lupe and Gulick attended art schools in New York, although not the same ones.
While Lupe graduated with a BFA from the Juilliard School in 2011, Gulick completed his MFA in Filmmaking Writing/Directing in 2017 from NYU Tisch. They might have met while job-hunting in New York or something else entirely.

Justine Lupe's partner, Germain Gulick. (Photo: Instagram)
He started his professional career in mid-2010, working as a coordinator for a Feature Film Program at Sundance Institute. He did that for three years and three months before moving on to his next thing — arguably his biggest project to date.
In July 2017, he started working as a producer for Starz. During his time there, he acted as a producer for six episodes of Warriors of Liberty City, a project with LeBron James and Maverick Carter as executive producers.
Since then, he has taken jobs as a copywriter, story producer, etc., before landing his current job as a freelance creative producer at Epoch.