Justin Tucker and Wife Used to Dedicate Offseason Time to Son Easton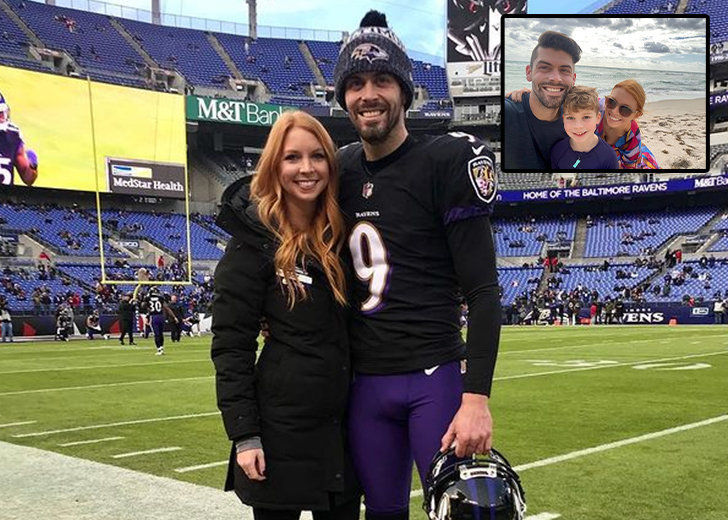 Justin Tucker used his season break to manage his son's schedule with his wife, Amanda Bass, and admittedly so. 
The Baltimore Ravens kicker partook in a Q&A session hosted by Penn Live at the Under Armour Performance Center in Owings Mills, Maryland, in 2019. 
Initially, Tucker answered questions about his kicking accuracy, matchday rituals, and superstitions.
Towards the end of the interview, a fan posed him a question regarding his season break.
Tucker shared he used his break as a "great time to just relax, take a minute, and step away from the game."
Further, the NFL player revealed he utilized his timeout by playing with his son, Easton Hayes. In addition, he and his wife admittedly maintained their schedule around their son during the break. 

Justin Tucker with his wife Amanda Bass and son Easton. (Photo: Instagram)
"When the kids are little, you're always on their schedule," Tucker noted.
He further called the off-hours a "great opportunity" to play with his son, take him to a walk in the park, or for a swim in the pool. 
Tucker remarked the break was "beneficial" for his health and good for the soul.
Justin Tucker and Wife Amanda Bass' Marriage
Tucker and his wife exchanged their vows in a private event on March 28, 2015. Soon after saying his "I do," the Ravens star announced the news of his wedding on Twitter.
"So happy to say I'm officially a married man," Tucked shared his excitement in his tweet before calling the day of his marriage "the happiest day" of his life.

Justin Tucker and his wife Amanda Bass on their wedding day. (Photo: Instagram)
A day later, Bass also posted a wedding picture on her Instagram. The photo saw the pair sharing a kiss under the wedding arch decorated with white and pink flowers.
"Yesterday was my favorite day ever," she captioned the picture. 
Since the big day, the pair has kept their fans in the loop regarding their marriage. In March 2018, Tucker posted a picture of himself with his wife to celebrate their third wedding anniversary. 
In the caption, he congratulated his wife, referring to her as "the most amazing woman I know." He also labeled himself "the luckiest man in the world."
Justin Tucker and His Son Easton Hayes
Tucker and his wife gave birth to their son Easton on May 10, 2016.
"This little guy joined our family this past Tuesday afternoon," the athlete wrote, announcing his son's arrival on Instagram.
"8 lbs 13 oz and 22 inches of sweetness," he added before penning, "We love you so much!!"
In the aforementioned Q&A, Tucker shared he wanted his son to play football from a young age, recalling he had played soccer when he was three or four years old. 
In June 2018, Tucker took to social media to post a picture of his son kicking a football at an outdoor location. "Start 'em young!" the Ravens player wrote in his caption, hinting at his wish to see his son make a career in football.