From Sundance to First Dance — Inside Julia Garner and Husband Mark Foster's Intimate Wedding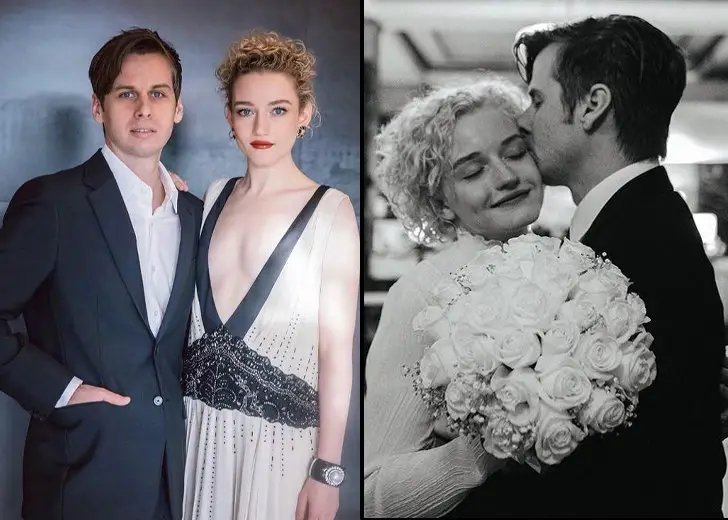 Two years ago, Julia Garner and her husband Mark Foster got married.
The couple met at the Sundance Film Festival outside the Eccles Theater. The two hit it off immediately, and during their conversation, they realized Garner's grandmother and her husband's father were from the same town just outside Cleveland. 
The husband and wife duo ended up seeing each other in Cleveland at Christmas every year, which turned into a ritual. They soon started dating, and after ten months, Foster proposed to Garner during their road trip to Montana. 
He read me a poem he had written to me, and when he finished, he dropped to a knee and asked me to marry him.
Foster got on bended knees outside Flathead Lake, and after Garner said yes, they continued down to Yellowstone and camped under the stars. The actress shared that the experience was surreal and beautiful. 
A few days later, the Ozark actor was photographed wearing a diamond ring on her ring finger at the Dirty John FYC panel in Los Angeles. 
Julia Garner and Husband Mark Foster's Wedding
And after seven months, the couple tied the knot.
They were conflicted over whether to have a big celebration or elope in Vegas, but eventually, they reached a middle ground and married at New York's City Hall just like Garner's parents had 40 years ago.
The ceremony was an intimate affair. 

Julia Garner and her husband, Mark Foster, during Foster's birthday (Source: Julia Garner Instagram)
The bride wore a white dress with a satin bodice and lace detailing throughout, while the groom wore a classic black tuxedo and color-coordinated bow tie.
The couple had only invited immediate family members to their wedding. They didn't hire a wedding planner, and instead, together with Garner's mother, they organized the wedding while their close friends helped them as much as possible. 
They had Francesco Civetta, otherwise known as DJ Cash, playing at the ceremony, photographer Andy Barron to shoot the wedding, and Ron Ben-Israel to bake the cake.
They celebrated with their extended family and close friends the next day at Locanda Verde in Tribeca for some dinner festivities.
Mark Foster's Unusual Wedding Present
After that, they took their guests to the Public Hotel, where the newlyweds cut the cake and danced for the rest of the night.
And to make the celebrations even more special, Foster, who is the lead singer of the band Foster the People, surprised Garner with an unexpected wedding gift. 
The singer had written the song 'Lovers in a Stream' just for the actress. The couples had their first dance to that song, which the actress described as surreal.
She shared to Vogue that she was surprised, and it was "the most beautiful present" she had ever received.
She added that only the people at the wedding had heard the song and that it would release soon. 
Since the wedding, Garner has won two Emmys in a row for Outstanding Supporting Actress for her performance in Ozark, and through it all, Foster sang praises of his beloved for her incredible work. He noted that he was incredibly proud of his wife.