A Peek into Josh Heupel's Family Life with Wife and Two Kids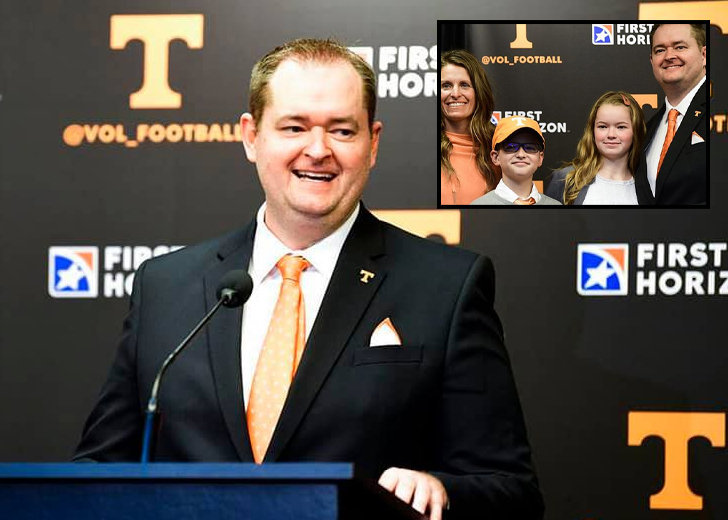 Josh Heupel, head coach of The University of Tennesee, and his entire family are into sports.
The football coach has previously talked about his upbringing as the son of a coach, and he is raising his children in a similar fashion.
However, Heupel's kids aren't the only ones who are involved in sports. He has described his wife, Dawn, as being a "good athlete." 
Both Heupel and his wife are from his hometown, and the two started dating in high school.
Like him, she was an athlete who used to play basketball and volleyball on top of being a violinist.
Throughout the entirety of their high school years, the two dated on and off.
The pair eventually got back together later, but it's not clear when Heupel and his wife tied the knot.
Together, the couple has two children together — daughter Hannah and son Jace.
Josh Heupel And Wife Have Two Kids
Heupel and Dawn have two children, both of whom have a lot in common with their parents.
When talking to UCFKnights, the coach shared his son was into basketball, football, and baseball.
As for his daughter, she is much like her mother and is interested in almost everything. Heupel noted Hannah had gotten the best of both himself and Dawn.
The best part of it is our kids–name the activity and they are into it. My daughter–it's dance, piano, artistic. Any sports she can get her hands on she will play… basketball, volleyball, golf, tennis… She is the most competitive person I've ever met, which is saying something.
During his interview with 247 Sports, he shared that his daughter was probably the only one who watched football games.
He and his daughter sit together and watch the games when they have time. He also added that she asked questions about his play-calls.
However, his kids' relationship with football doesn't end with them just being interested in it.
Heupel thinks it's important for his children to have good relationships with his team's players and noted that both Hannah and Jace truly felt like they were part of the team.
Additionally, Hannah also put aside a day to do something special for the players.
"My daughter, during training camps she picks a day every year, and she loves to cook, just has grown up that way, and she'll bake treats for the players and just wants to be a part of it, too," he shared.
Josh Heupel's Family Bond Over Sports

Josh Heupel with his parents in 1998 (Photo: Argus Leader)
Aside from Heupel's daughter spending time with his team and watching games with him, they also bond over golf.
He revealed he didn't play golf a lot, but started playing more because Hannah was into it. Furthermore, his wife is also into golf.
The fact that his entire family is gifted athletically has also helped him embrace golf a bit more.
Heupel's parents haven't missed his games ever since his father retired.
They also come out for training camps and his mother takes care of his kids.