Josh Allen Gave His Mom the Best Birthday Gift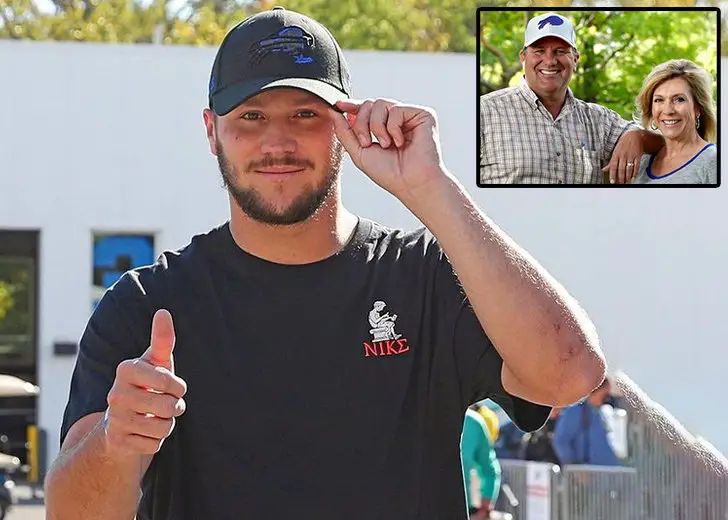 Josh Allen gave his mom LaVonne Allen the most memorable present on her birthday on August 6, 2021.
He signed a six-year contract extension worth $284 million with The Buffalo Bills. 
"They were on a flight when it happened," he said during a news conference (reported by The Buffalo News).
The Bills quarterback also mentioned that his mom and dad already had a hunch the extension was going to happen that day. 
He stated the contract was a "good birthday surprise" for his mom, and undoubtedly so. 
The pact is a one-of-a-kind, high-paying deal, setting a record for most guaranteed money. Allen reportedly earned $100 million within the first week of signing the deal. 
After the contract extension triggers in 2023, he will bag a guaranteed $42 million for the first three years.
If he continues playing with the team till 2028, the athlete would have $284 million, including base salary, guaranteed money, and bonuses. 
Josh Allen on Surprise He Gave His Mom
After signing the contract, Allen expressed his joy regarding the surprise he gave his mom during the aforementioned press conference.
He remarked such lucrative contracts were why people played the game in the first place. 
He noted the deal would allow him to provide for his family and also acknowledge the responsibility that came with it.
"I understand that this money is awarded, but I've got to go out there and continue to earn it."

Family Time: Josh Allen with his mom, dad, and sisters in May 2017. (Photo: Josh Allen/Instagram)
The footballer added that his position was a blessing, and he was on cloud nine for achieving the milestone. 
Josh Allen Credited His Success to Brother
Allen also mentioned his family members and their ever-lasting support during the interview. Particularly, he mentioned his brother Jason and disclosed that his sibling was pumped for his success. 
"And that's my best friend," Allen said before stating out loud that he wouldn't be enjoying his success if it was not for his brother. 
The NFL player did mention that there were many people behind his success but stressed that his brother was the most important one.
He explained that their competitiveness against each other while growing up pushed him to be the best he could be. 
"He's my No. 1 supporter, and I love that guy so much," Allen said of his sibling. 
Besides Jason, Allen has two sisters — Makenna and Nicala. They grew up on their 2,000-acre family farm in Firebaugh, California. 

Josh Allen with his brother Jason Allen. (Photo: Instagram)
Their hometown had a huge effect on Allen's journey toward being one of the best quarterbacks. 
No college wanted to provide a scholarship to a player from Firebaugh High School located in a remote place better known for producing cantaloupes than athletes. 
Despite the odds, Allen hoped for the best and sent roughly a thousand emails to every Division I head coach, but all his efforts were for naught. He got no scholarship offers initially. 
Still, Allen was determined that he wouldn't stop until getting into the NFL.
He joined a modest Central Valley community college. Later, Allen got an offer from the University of Wyoming after their high schooler, Eric Dungey, transferred to Syracuse. 
Finally, The Buffalo Bills drafted him as their seventh overall pick of the 2018 NFL Draft.