Colby Covington Trashes Jorge Masvidal over Relationship with His Alleged Wife and Kids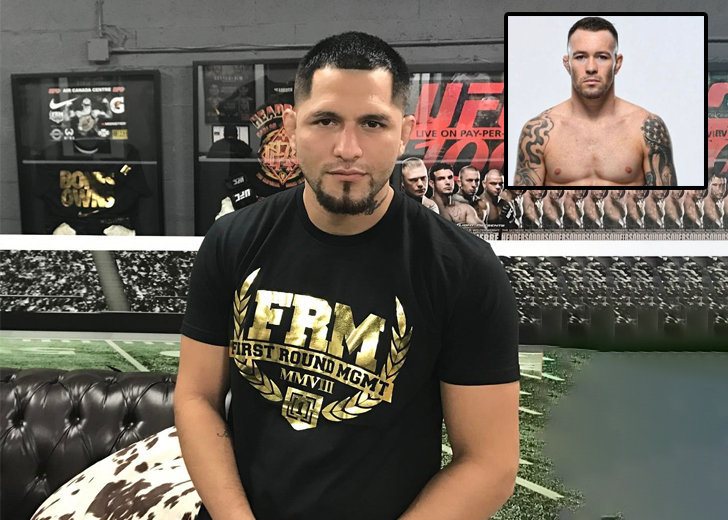 Colby Covington is very open about his feuds with fellow professional mixed martial artist Jorge Masvidal.
In doing so, he spoke with The Mac Life in January 2022 and claimed that Masvidal was hiding and was not willing to fight.
"He's hiding. So, it's plain and simple [that] he doesn't want to fight [and] he doesn't want to, you know, give the fans what they want," Covington, 34, said.
Later, during the same conversation, the mixed martial artist also slammed Masvidal's personal life, critiquing his relationship with his alleged wife and kids.
Colby Covington Claimed Iman Kawa Is Not Jorge Masvidal's Wife
According to various online reports, Masvidal, who currently competes in the Welterweight division for the Ultimate Fighting Championship, is married to Iman Kawa and shares three kids [two daughters and a son] together.
If you didn't know, Kawa is a Jordanian American entrepreneur and procurement specialist and the sister of MMA agent Malki Kawa.
But when Covington was asked about the last time he and Masvidal had a conversation, he first shared that he had last seen him more than two and a half years ago.
"When I was in the locker room and I just beat Rafael dos Anjos for the interim title," he recalled.
He then exclaimed that Masvidal was jealous of his popularity at the time; and one sudden day, the fellow fighter came to him and reportedly explained to Covington that he wanted to fight for his kids.
"But I come to find out the guy [Masvidal] is a piece of [expletive]. He doesn't care about his kids," he added.
Not just that, Covington revealed that he had met Masvidal's wife [to be precise: estranged wife] just a day ago, and it was not Kawa. He claimed that the internet was wrong about Kawa being Masvidal's wife and mother of his kids.
As per him, the mother of the fellow fighter and Masvidal's estranged wife was a woman named Maritza Collado.
Jorge Masvidal Has Not Gone Public with His Wife
A quick scroll through his social media accounts and search on the internet shows that Masvidal is a very private man who rarely speaks about his relationships and family.
However, what the internet report is that he was once together with Kawa, with whom he had three kids.
A report from Sportskeeda claims that he and Kawa were reportedly dating for ten years.
"There is no information available as to when or why the two parted ways. However, the two are reported to have split sometime around 2019," the report read.
But again, Masvidal hasn't confirmed his dating or marriage rumors with Kawa so far. He has also stayed silent and made no remarks on Covington's claims.
Who Is Maritza Collado?
The internet, which is confused with Masvidal's love life details, also shows that he was previously together with Collado.

Colby Covington pictured with Jorge Masvidal's alleged wife Maritza Collado. (Photo: Instagram)
Her name became the talk of the town when Covington mentioned her as Masvidal's wife and even posted a picture with her on January 21, 2022.
In addition, Covington has claimed that Masvidal does not want people to know about Collado.
If rumors were to be believed, they were married, and are now split up — but there was no media coverage of either instance.
It is also unknown if she is the mother of Masvidal's three children, since it is unclear if Kawa is his baby mama.