'Fast and Furious' Star Jordana Brewster Admits She Was Close to Dating Paul Walker in Real Life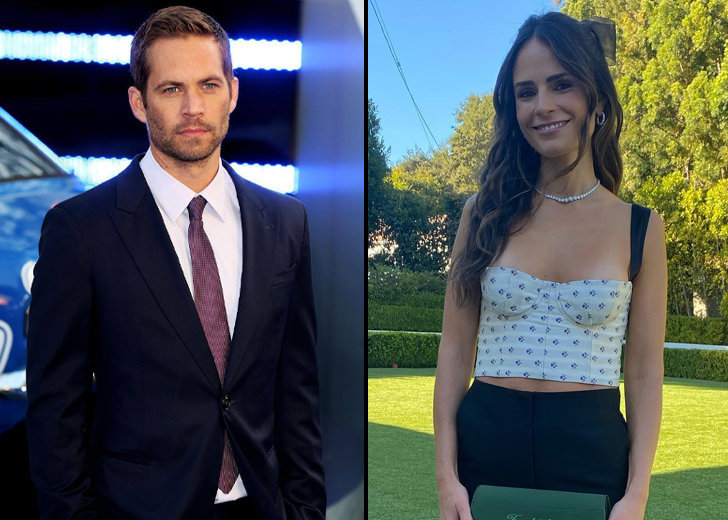 Jordana Brewster and late actor Paul Walker made a beautiful on-screen pair while starring in the Fast and Furious film series.
In the film, the actress played Mia Toretto, wife of Walker's character, Brian O'Conner, an undercover cop sent to infiltrate a crew of hijackers.
But the unfortunate demise of The Young and the Restless actor in November 2013, at the age of 40, meant the end of a captivating on-screen romance. 
Even Mia missed out on three sequel films following Walker's death, with makers explaining her presence in the film would have been difficult without Brian.
Brewster eventually reprised her role in the 2021 sequel film F9.
Jordana Brewster Was Close to Dating Paul Walker
During the premiere of F9 in June 2021, Brewster spoke with E! Red Carpet & Award Shows and candidly talked about her relationship with her former co-star and close friend.
She first said that she didn't know Walker had a crush on her while filming the first movie — which according to the interviewer, was revealed by director Rob Cohen sometime back.
The actress went on to admit that things would have been different between her and Walker, her on-screen husband, had she known things a little earlier.
She gushed, "I had a crush on him, more after like, from [Fast & Furious] 4 to like 7, I had a crush on him. My guy, yeah."
When asked why she didn't express her feelings to him before, she said, "I never got to tell him that but I think on many levels he knew."
Jordana Brewster's Fondest Memory of Paul Walker
In a separate interview with Entertainment Tonight, the Teen Choice Awards-winning actress recalled her favorite memory of Walker.
For her, her fondest memory of the late actor was an intense action scene she had to shoot with him for Fast Five. 
"Throughout the whole franchise, my favorite movie was in Fast Five, where we were jumping in the favelas of Brazil. And I was so nervous because one day I had this harness waiting for me, and I was like, 'What is this for?'" Brewster recalled.

Jordana Brewster, Paul Walker, and Vin Diesel relaxing in between takes while filming Fast Five. (Photo: Twitter)
She added, "And we had to do this massive jump."
At the same time, she looked at Walker, who was giving out a calm, reassuring attitude — and that, according to her, helped her get through the stressful moment.
"And Paul was just like, 'I got you,'" she further recalled. "And there was no way to not feel safe and comfortable with Paul, and I think that's the energy that everyone felt. So yeah, he made me feel very safe." 
Jordana Brewster Remembered Paul Walker on His 48th Birthday
On what would have been his 48th birthday — September 12, 2021 — Walker was remembered by many, including his co-star Brewster.
Speaking with People, the Fast and Furious star implied that the death of any person has a huge impact on everyone's life.
She also mentioned that the grief that she has suffered from Walker's death comes in waves.
The wound is super deep down and she cannot even fathom the fact that he isn't alive anymore.