Jonathan Scott Doesn't Shy Away from Showering Love to Girlfriend Zooey Deschanel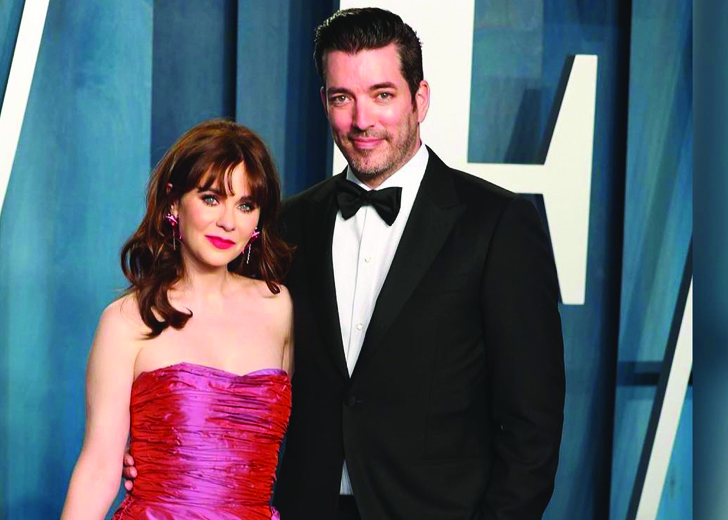 Jonathan Scott makes sure to express his love for his girlfriend Zooey Deschanel on social media.
On March 29, 2022, the HGTV star Instagrammed two photos featuring him and his muse at the 2022 Vanity Fair Oscar Party. 
Scott posed beside his girlfriend on the red carpet in the first picture. While in the second, he was captured carrying the voluminous train of her pink Christopher John Rogers gown over his arm.
"You've affectionately held my heart for almost 3 years, the least I could do is hold your train for 3 hours," Scott affectionately captioned the post, complimenting her with, "You looked beautiful as always."
Deschanel reciprocated the feeling towards her boyfriend in a reply, writing, "You are my numero uno!!!! Best boyfriend in the world!"
Jonathan Scott's Relationship with Girlfriend Zooey Deschanel
The Property Brothers star and his partner first met in August 2019 while filming Carpool Karaoke, where they appeared with their respective famous siblings, Drew Scott and Emily Deschanel.

Scott hugging his girlfriend Zooey Deschanel at an intimate party he threw for her 42nd birthday. (Source: Instagram)
As reported by Us magazine, the pair had instant chemistry and bonded over their love of music, film, theater — and Christmas carols.
Since then, the pair's relationship has only grown stronger. They have openly shared their romantic milestones along the way. 
Scott and the New Girl alum began dating in September 2019, shortly after Deschanel split from her husband of four years, Jacob Pechenik. 
A month later, the couple went Instagram official. Both shared photos from their trip to Halloween Horror Nights at Universal Studios in Los Angeles.
Over their almost three-year relationship, Scott and his girlfriend have rung in three new years, celebrated each other's birthdays, spent quarantine together, worked side by side, bought their dream house, and supported each other's career.
In January 2022, Scott threw an intimate party for Deschanel's 42nd birthday. The reality TV star shared several photos of the event.
Zooey also posted photos from the celebration and wrote, "The best (birthday) dinner date."
Scott dedicated a separate post to mark his girlfriend's birthday and shared a carousel of photos of the couple. "Happy birthday to the one and only @zooeydeschanel," he captioned the post. "You make life so much better."
Likewise, Deschanel shared a heartwarming tribute to celebrate her boyfriend's 44th birthday on April 29, 2022.
She complimented him in the post, penning, "Happy Birthday to the most wonderful and kind man who lets me wear his jacket when I'm cold, helps me carry the train of my dress all night, and never complains."
"I'm excited to wake up every day just to see him. So happy to celebrate @jonathanscott today (and every day)," added the actress.
Jonathan Scott's Past Relationships
Before Scott and Deschanel's whirlwind romance began, the pair weren't so lucky in love.
Scott was previously married to his then-wife, Kelsy, an airline-crew scheduler. They wed in 2007, and he moved from his home in Canada to Las Vegas to be with her. 
But the marriage ended after two years. "We were young, and there was a rush going into it," Scott explained to People about their failed marriage. 
He added, "She wanted to get married on 07/07/07 . . . so it wasn't something that naturally happened." 

Jonathan Scott and his then-girlfriend Jacinta Kuznetsov. (Source: Twitter)
The star also spoke of the lesson he learned from the separation. "I think that one of the biggest things I learned is that you can have two good people who are just not good for each other."
Scott noted the heartbreak helped him understand what he wanted in a relationship.
Following the divorce, he got another shot at love when he met Jacinta Kuznetsov, a development producer at Scott Entertainment. Unfortunately, this relationship ended after three years of dating.
Scott met Kuznetsov in the fall of 2015, and the couple announced their amicable split on April 6, 2018, via Instagram.