Meet Kelley Cahill — The Wife of Golfer Jon Rahm
Jon Rahm and Kelley Cahill have been married for two years.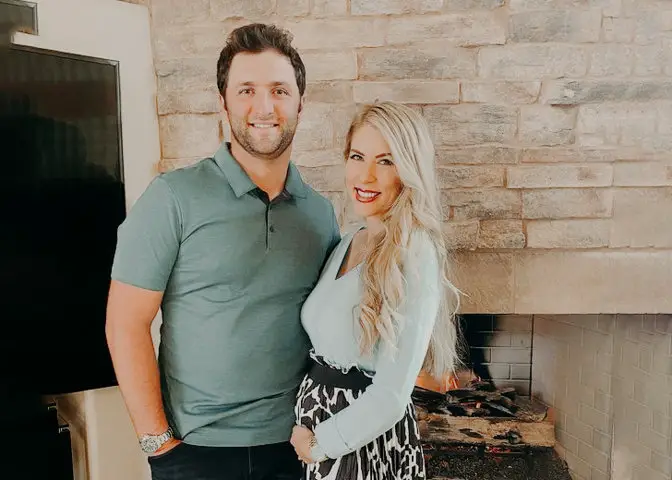 Spanish golfer Jon Rahm got the best of both worlds, his professional and personal life. Learning to handle the golf club since 6 or 7, he ranked number one in the Official World Golf Ranking. 
He won against his idol Tiger Woods at the Ryder Cup in 2018 and then made history, winning the 121st United States Open in 2021. 
While his monumental achievements embellish his decorated career, he also has an equally blissful married life with Kelley Cahill. 
Jon Rahm and Kelley Cahill's Family
Rahm's picture-perfect family with Cahill is straight out of a fairytale. The pair met at the Arizona State University in the United States and fell in love. 
They managed their relationship amid Rahm's demanding career and started living together in 2017. Then, in the summer of 2018, the golf champion proposed to his college sweetheart with a customized ring. 
He gushed about the engagement ring with Golf magazine in August 2018 and revealed that his golfer friend Brian Stuard's partner helped him make the band. 
The 26-year-old wanted the ring to look like a crown with engravings inside. So he designed the band and also chose the diamond. 
So Kelley was talking to her. She knew what Kelley wanted, but I had my own ideas. Basically, with her help, I designed the ring.
A year after Cahill accepted his proposal, the lovebirds tied the knot near Rahm's hometown in Bilbao, Spain, in December 2019. 
Joyous news followed as the pair welcomed their first child, son Kepa Cahill Rahm, on April 3, 2021, just days before Rahm headed for The Masters Tournament.
The Barrika native had vowed to cancel the trip if his wife went to labor during the competition. But, for good, his son arrived early, and he could join the game at the Augusta National Golf Club. 
Kepa was ten weeks old when Rahm won the U.S. Open on his first father's day.  
Kelley Cahill Is Also into Sports 
Rahm and his wife Cahill could have bonded over their love for sports. Cahill was on the track and field team and threw javelin in her college days. She used the nickname Sun Devils. 
The Oregon native was also well-trained in tennis. During her high school in Scottsdale, she played the game and was recruited as a two-star player by Tennis Recruiting Network, a website that functioned for junior tennis.
But she has stopped playing tennis, at least with her husband. The pair had competitively played against one another once, and Rahm won the match. The unexpected loss upset Cahill for more than a day.
Since then, the duo has admittedly never stepped on a tennis court, although they partake in other games, and Cahill supports her husband in his tournaments.