Who Is Jon Hamm's Girlfriend? Inside the 'Mad Men' Star's Dating Life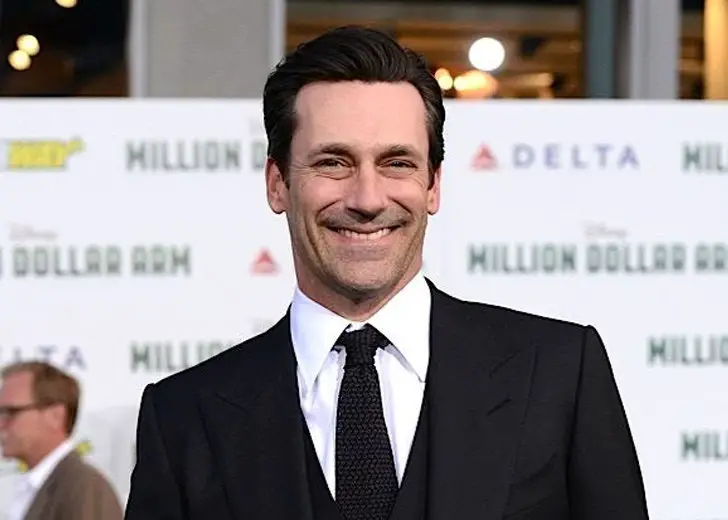 Jon Hamm's dating life is rife with speculations and privacy.
The Mad Men star has had rumored relationships with many A-listers in the past, one of which lasted a good 18 years.
Stability seemed to elude Hamm's personal life after his long-term relationship ended. But, in 2020, that seemed to change for the better.
Who is Jon Hamm's Girlfriend?
Jon Hamm and Anna Osceola were confirmed to be boyfriend and girlfriend on June 23, 2020. It was Us Weekly who first confirmed that they were a thing.
This news came after multiple spottings and countless rumors ran rampant for over three years.
Hamm and Osceola seemingly first developed chemistry while working on Mad Men in 2015.
They appeared together as Clementine and Don Draper in the season finale of the show that year.

Jon Hamm with girlfriend Anna Osceola on Mad Men in 2015. (Photo: Twitter)
After this, they were only seen together in public in 2017. Extra reported that Hamm was seen leaving a coffee shop with his girlfriend.
They were then seen playing tennis together in 2018. Daily Mail obtained pictures of them enjoying the sport.
The speculations of them being a couple really took off after the tennis game.
People started to comment on his Instagram pictures about his relationship, and appreciation for them as a couple became more widespread among the Instagram fan accounts.
As May 2020 approached, public appearances became more commonplace. They were again out playing tennis on May 23, 2020, with matching green outfits.
The next day, they attended an outing in LA, according to posts on Twitter. Fans immediately identified his female companion as Osceola.
On November 21, 2020, Daily Mail released pictures of them out and about in West Hollywood. Hamm had reportedly gone on a low-key dinner date.
Their next appearance came in March 2021. They ran errands and got some groceries on March 13, just days after his 50th birthday on March 10.
Jon Hamm's previous relationships
Hamm was with Jennifer Westfeldt, former girlfriend and frequent collaborator, for many years. They first met each other at a mutual friend's birthday party.
They started their relationship in 1997 and stayed together through many of his issues regarding alcohol and partying.
Their time together was also plagued with breakup rumors. However, they remained together despite it all. He even credited her for getting him through his rehab days for alcohol abuse.
But, their relationship eventually ran its course, and in September 2015, they confirmed their split.
"With great sadness, we have decided to separate, after 18 years of love and shared history," their statement to People read. "We will continue to be supportive of each other in every way possible moving forward."
After this started a string of dating rumors with many A-listers. First, in June 2017, he was linked with Jenny Slate, with whom he had worked in Aardvark.
Shortly after, Hamm and Dakota Johnson were rumored to be a thing. Both these relationships went unconfirmed.
Elisabeth Moss's name, too, was thrown into the mix but without any solid proof for the connection. This, too, disappeared.
Then, in late 2019, amidst appearances with Osceola, he was seen hanging out with Ben Affleck's former girlfriend, Lindsay Shookus.
Many sources claimed they were flirtatious while attending a Broadway show together. Again, a few months later, they were seen going out for dinner in New York City.
However, Hamm's representatives denied the dating rumors. "They are not friends; they are acquaintances," the reps told Page Six in July 2017.