Countdown Is On: JoJo Fletcher and Jordan Rodgers Are Planning to Wed in 2022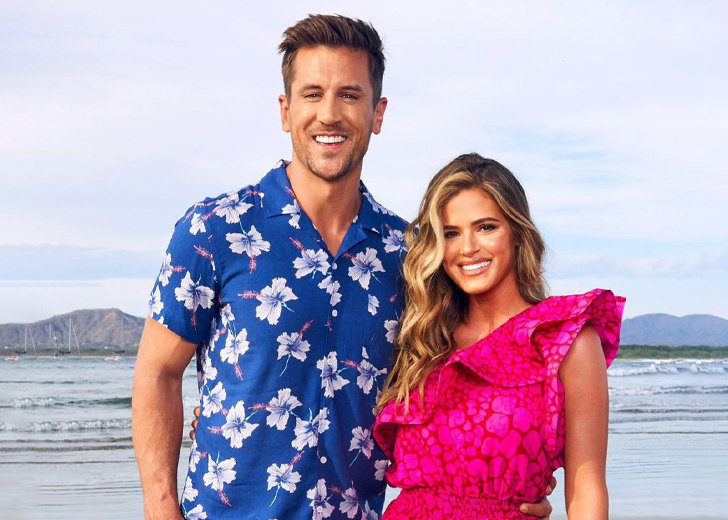 The third time's the charm! 
JoJo Fletcher and Jordan Rodgers have set a date for their wedding after having to postpone their big day twice already. 
They will finally be walking down the aisle in May 2022, albeit they have yet to share the exact day of their nuptials. 
JoJo Fletcher & Jordan Rodgers Decide on a Third Wedding Day
During an exclusive interview with Us Weekly, Fletcher briefly discussed her and her fiance's decision to postpone their wedding. 
"We're doing it no matter what at this point," she said of the plans for May.
Despite having to move the dates twice, the reality star was still very much enthusiastic about having the wedding of her dreams. 
"Like [for] some people, it was more important to them to say, 'Listen, I just want to get married. I don't care about all this," she entertained. 
However, for the couple, it was about having everything that they dreamt of and having everyone they loved bear witness to their union. 
"For Jordan and I, I feel like time has always been in our favor and we've always kind of just taken things at the pace that we were most comfortable and, like, we've waited so long," she shared. 
While the circumstances were such that they had to move their wedding, the fact of the matter was that it was still a personal decision. 
Undoubtedly, the decision to move their wedding must not have come easy to the lovers. 
Every time they had to postpone the wedding, they had to do it by the year because the fall was not an option. 
The soon-to-be husband had to be out for the football season, and there were only a few months in a year where their venue was thriving and beautiful since it was an outdoor venue.
The convergence of these two factors only came in May. 
"It's a personal decision, but I would say if anyone else is waiting, just know that it's going to be worth it," Fletcher assured. 
JoJo Fletcher & Jordan Rodgers Engaged on 'Bachelorette'
As per an Instagram post on Fletcher's Instagram, the couple celebrated their first engagement anniversary on May 12, 2017. 
However, the world would not get to see the engagement ring until the final episode of Bachelorette season 12 was aired in August 2016. 
That being said, the Bachelorette star got another engagement ring three years later. 
The Second Engagement Ring
On August 15, 2019, the soon-to-be husband put up the gorgeous engagement solitaire on display over on his Instagram. 
The engagement ring featured a 5-carat custom-designed oval cut diamond ring by jeweler Nicole Wegman of Ring Concierge, as per reports from People. 

JoJo Fletcher & Jordan Rodgers second time engagement ring (Source: Instagram)
The first time around, Rodgers had proposed with an engagement ring with a diamond from Neil Lane, which he picked out of a curated selection provided by the hit ABC reality show.
"The first time around, I fell in love with a lot of what you all love about JoJo," he contrasted. "But this time around I got on one knee and vowed to honor and protect her heart, which is the greatest part of her."