Inside Joanna 'JoJo' Levesque and Boyfriend Dexter Darden's Relationship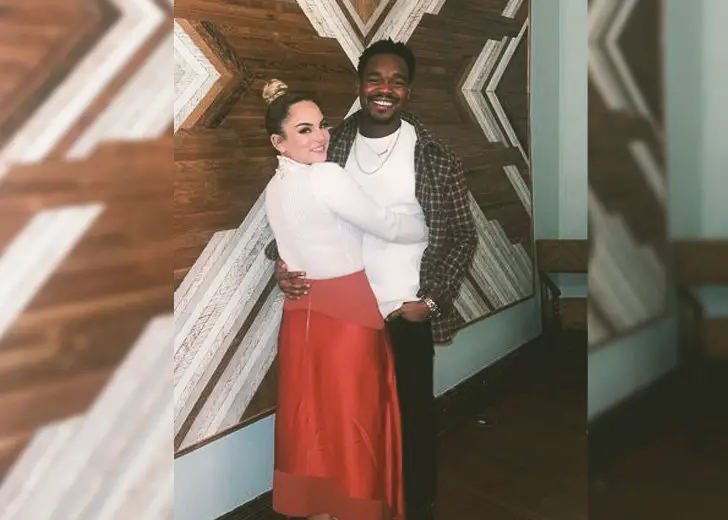 Joanna Levesque, better known by her stage name JoJo, was out enjoying thanksgiving dinner with her family, boyfriend, and his family. 
This marks the first time the adorable couple has publicly brought their families together for a celebration, and fans couldn't be more excited for their relationship that seems to be growing stronger by the day.
JoJo & Dexter Darden's Family Thanksgiving Dinner
On Thursday, November 25, 2021, the songstress took to her Instagram to share a series of snaps highlighting her thanksgiving celebrations. 
The post's cover picture featured JoJo's boyfriend, actor Dexter Darden, landing a loving peck on her cheek as she beamed a smile for the camera.
The singer was clad in a light gray top contrasting against her orange long-skirt. Also, her golden pumps were on full display. As for her boyfriend, he sported a flannel shirt over a white t-shirt, complete with a pair of black trousers and cowboy boots. 
The pictures that followed saw the two families come together to celebrate the festival of gratitude. Everyone was all smiles as the doting lovebirds glued the two families into a single unit. 
JoJo was quick to share her best wishes with her followers as her captions conveyed the joy from their families to their fans.
Later, the songstress shared a number of stories giving her followers an update on how the night was going. She shared clips from after the celebrations, where her family could be seen bonding with his. 
JoJo Shared a Video of Dexter Darden
This was not the first time that JoJo has featured her partner on Instagram, though. Back in June 2020, JoJo shared a video of Darden (via The Things) reciting a poem about racial injustice.
The poem outlined how unjust acts came from remaining silent, giving JoJo the perfect premise to speak up.
The clip saw the Maze Runner actor discuss the implications of a white person who considers themselves an ally to the black community but ultimately refuses to stand up for them when they are murdered.
The poem was especially poignant as it was posted as the entire country was in upheaval following the unjust fate that George Floyd suffered. The post seems to have been taken down, though.
JoJo Frequents Dexter Darden's Instagram
Since the two started dating, in recent months, fans have been seeing more of JoJo on Darden's Instagram feed too. On October 30, 2021, the actor shared a carousel of snaps taking fans through a fun night at Broadway. 
Apparently, Darden and JoJo were out in New York to enjoy a TINA The Musical show on Broadway with his girlfriend and a bunch of friends. 
The duo went with matching black outfits for the night. JoJo had a leather longcoat paired with black leggings with white accents. Her choice of footwear for the night was matching black boots. 
Standing tall and proud beside her was Darden with a black jacket over a black sweater and a pair of black pants. He accessorized his look with a blue checkered scarf.