Johnny Manziel's Ex Wife Bre Tiesi Has Moved On, But Has He?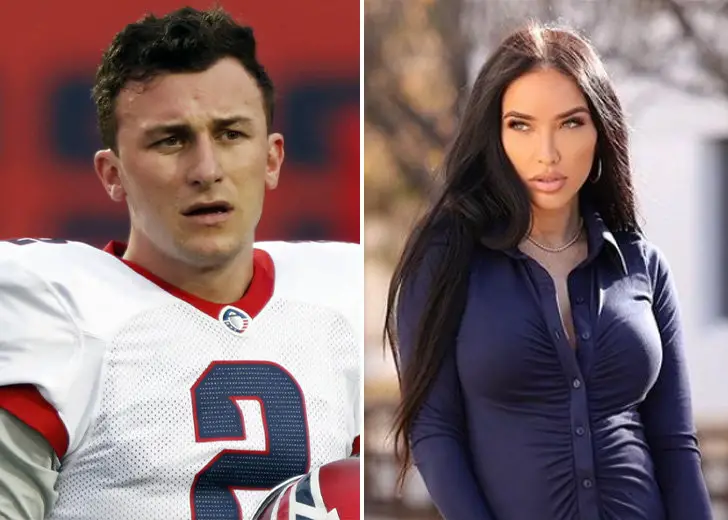 Johnny Manziel had a roller-coaster relationship with his ex wife, Bre Tiesi. 
The two were head over heels for each other when they started dating in late 2016. Then, they got engaged in less than a year of dating, in March 2017. 
TMZ reported that the NFL player proposed to his girlfriend during a romantic getaway to Paris. Manziel told the tabloid that he popped the question to Tiesi because she was amazing and saved him. 
The Wild 'n Out star also claimed she "couldn't imagine a day without" her beau. A year later, the two got married in a secret wedding ceremony in March 2018. 

Johnny Manziel and his ex wife, Bre Tiesi, separated after one year of marriage. (Source: Twitter) 
Interestingly, March wasn't the month they only got engaged and married. They also separated in the same month. 
In March 2019, the pair parted ways after Tiesi accused her spouse of cheating. 
Six months later, she filed for divorce and the divorce was finalized in November 2021. Tiesi celebrated grandly to announce she was moving on from her past. 
Bre Tiesi's Lavish Divorce Party 
Tiesi celebrated her divorce with her closest friends in Florida. She took to Instagram to show herself in a black swimsuit that read "single" on her lower back. 
She posed with a red cake that looked like a broken heart in the now-deleted post. It read, "I do, I did, I'm done... Divorced at last..." 
The cake was adorned with a barbie lying down with a bottle of alcohol. Similarly, Tiesi also posted a couple of pictures with her girlfriends, who wore similar swimsuits as hers but in white. 
She captioned her post by thanking her friends for throwing her "the craziest divorce party."
She then wrote, "No shade to J, wish you nothing but the best, love ya," and ended the caption with a red heart and laughing emoji. 
It seems like there is no bad blood between the pair since the NFL player commented on his ex wife's post with ten laughing emojis. 
Bre Tiesi Has Moved On
While Tiesi celebrated being single in November 2021, she had already moved on from her ex-husband to another beau.
Initially, she was linked with Caspar Smart, but it was not confirmed. 
But later, it was affirmed that Tiesi was dating Nick Cannon and even pregnant with his baby. However, the two did not reveal the news soon since Cannon had just lost his son, Zen, to brain cancer in December 2021. 
After he mourned for his son, Cannon and Tiesi did a gender reveal and announced they were expecting.
They celebrated on a beach in Miami on January 31, 2022, surrounded by their friends and family. 

Johnny Manziel's ex wife, Bre Tiesi, is pregnant with Nick Cannon's son. (Source: Instagram)
The beach was decorated with white, blue, and pink balloons. Tiesi and Cannon popped confetti cannons into the air to reveal blue confetti — revealing they were expecting a boy. 
Since then, Tiesi has updated about her pregnancy on her Instagram. 
Johnny Manziel's Rumored Girlfriend
Manziel has also seemingly moved on like his ex wife. He has been spotted with model Kenzie Werner, making people wonder if the two are dating. 
On March 30, 2022, TMZ reported the couple was hanging out often. They had hung out in Scottsdale and partied together in Miami as well. 
On April 1, 2022, the NFL player uploaded two pictures on Instagram that saw his girlfriend straddling on his neck.
However, he has not confirmed if they are actually dating or not.