Joe Thomas Settled Down with His Wife and Kids after Retirement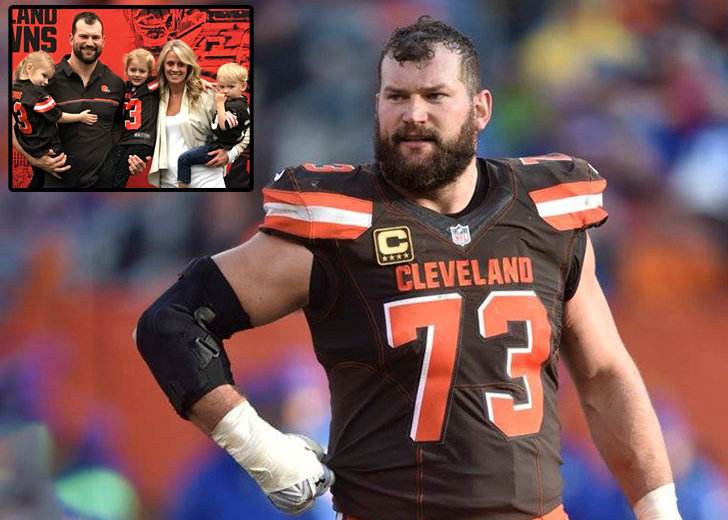 After Joe Thomas retired from the NFL in March 2018, he has dedicated most of his time to his wife, Annie Thomas, and their four children.
And it was evident, too, because he had implied in his farewell speech that his family supported him through his career, and he would like to give them back similar care after retiring.
Besides, while speaking with UWBadgers' Mike Lucas in July 2018, Joe shared his post-retirement plan and how he wanted to reconnect with his family.
"The big thing really for me right now is that I want to be able to step away and not over-commit myself and kind of reconnect with my family," he said.
Joe Thomas' Plans with Wife and Kids
During the conversation with the previous tabloid, Joe continued to express that he wanted to enjoy some of the things with his spouse and kids in the fall that he hadn't been able to enjoy for a long time.
His wishlist included being a college football fan, an NFL fan, and watching the games from the stands.
"I'll be spending time with my family—maybe taking my kids to a couple of Badger games," the retired football offensive lineman said.
In addition, Joe also gushed about his and his wife's connection with Madison, Wisconsin, where his family presently lives.
He admitted Madison was "a logical, inevitable landing spot" for the couple.
"From the time we started dating and got married (2007), we always knew that we'd end up back in Madison," Joe said. "We knew that we wanted to raise our kids here."
Joe Thomas and Wife Welcomed Their Fourth Baby
After his retirement, Joe was reportedly blessed with his fourth baby in August 2018. The fourth one joined Joe and Annie's daughters, Logan and Camryn, and son Jack.
In honor of my baby's due date, we asked our kids what they think the; gender, weight, and length will be. All normal answers until we asked my 2 year old... he thinks we're having a 8lbs 5oz puppy. — Joe Thomas (@joethomas73) August 31, 2018
However, the couple has been very private about their family life, especially kids, due to which little is known about them in public.

Joe Thomas and his wife had their fourth baby in 2018. (Photo: Twitter)
That said, Joe occasionally shares pictures and videos of his kids, dropping updates of his life with them.
Joe Thomas and Annie Thomas' Relationship
The former NFL star has been together with his wife Annie since they first met at the University of Wisconsin.
According to Cleveland Mag, the couple first ran into each other in the football training room when she came in to have an ankle taped.
Annie is a former UW women's basketball player who was the leading rebounder on the 2004-05 team.
She presently serves as an assistant coach for the Cleveland State University Vikings women's basketball team.
On December 6, 2006, a night before he received the Outland Trophy, Joe went down on his knees to propose to Annie. She also didn't hesitate to say yes.
After over six months of the engagement, on July 7, 2007, the couple eventually tied the knot on "one of the hottest days of the summer" in Madison.
On the big day, the bride looked beautiful in a strapless taffeta gown with Swarovski crystal-and-pearl beading, sweetheart neckline, lace-up back, and tiny covered buttons all the way down the train.