Let's Dive into the Famous Dodger's Joe Kelly's Wife and the Family of Five!
Joe Kelly met his wife at the university dorms.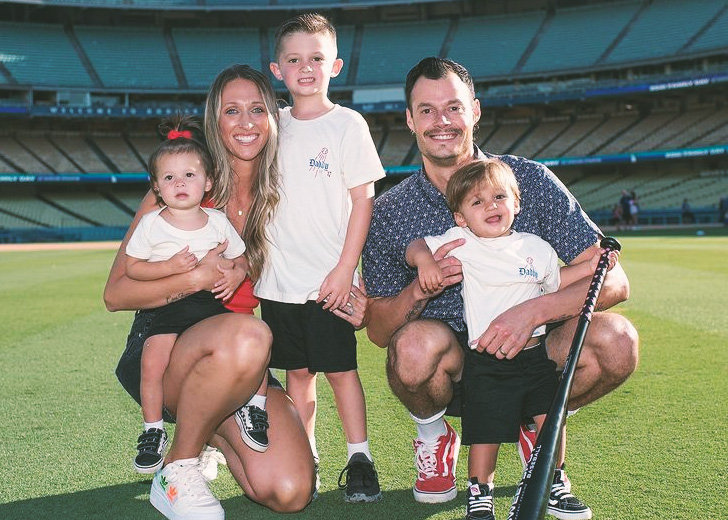 Los Angeles Dodgers pitcher Joe Kelly is married to Ashley Parks, the daughter of former Minnesota Twins catcher Derek Parks. The two met while attending University of California, Riverside (UCR) and have been together for about 15 years.
Here's a look at Kelly's wife and their family of five.
Joe Kelly Met His Wife At University
Kelly and his wife Ashley met for the first time at their university dorms. The two hit it off instantly and began dating shortly after.
After a few years together, Kelly popped the question to Ashley, and they tied the knot in November 2013 at the Padua Hills Theater in Claremont. The pair became parents for the first time, three years after their marriage.
Kelly and his wife welcomed their first child together, son Knox, in February 2016. Their family of three grew larger on April 17, 2020, after she gave birth to twins — Crue Jaxon Kelly and Blake Tyler Kelly.
Joe Kelly's Wife Is Also An Athlete
Like her husband and her father, Ashley is also an athlete. When she attended Los Osos High School, she played varsity soccer and was also a part of the cheerleading team, which she later captained.
And while Kelly played baseball during his time at UCR, Ashley continued playing soccer. She played as a midfielder for the women's soccer team.
Ashley graduated with a major in Interdisciplinary Studies with concentrations in Sociology/Film and Visual Culture. Even after completing her university years, she continued with her active lifestyle and previously worked as a Lagree Fitness Instructor.
Joe Kelly's Career
Kelly had a spectacular run playing college baseball for the Highlanders team. He was named the Big West Conference Pitcher of the Year 2007 as a freshman. By the time he had graduated, he had set a Highlanders record with 24 career saves.
Kelly's professional career began in 2009 when he was selected by the St. Louis Cardinals in the third round of the 2009 MLB draft for $341,000. For the next three years, he played in the minor leagues.
He made his MLB debut on June 10, 2012, replacing Jaime Garcia, who was injured at the time. Unfortunately, he lost his rotation spot to Shelby Miller in the next season.
During his three seasons in MLB with the Cardinals from 2012 to 2014, Kelly compiled a 17-14 record with 3.25 ERA and 179 strikeouts over 266 innings pitched in 68 games.
Kelly joined the Boston Red Sox on July 31, 2014, after he was traded along with Allen Craig for John Lackey and Corey Littrell.
He played for the Red Sox until 2018 and signed a three-year $27 million contract with the Los Angeles Dodgers, his favorite team, growing up.