Is Joe Exotic Gay? Inside His Relationship History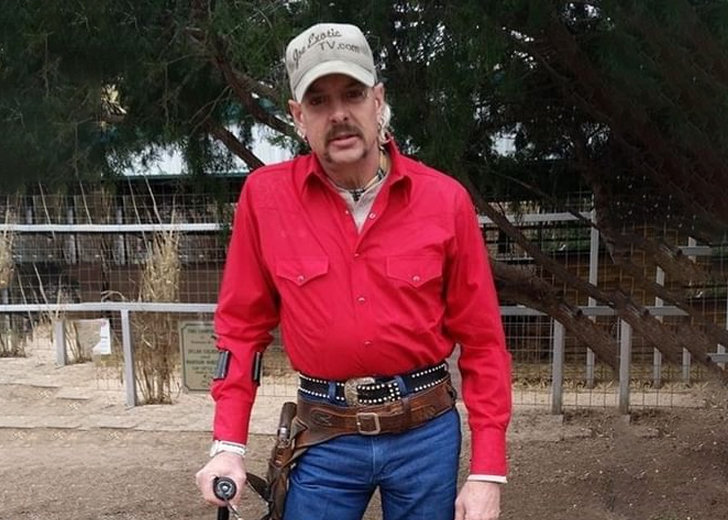 Joseph Maldonado-Passage, best known as Joe Exotic, made headlines when the Netflix series, Tiger King, went viral in 2020 amidst the pandemic.
Alongside showing off Exotic and his zoo with big cats, the series revolved around his personal life. 
It showcased his lifestyle and his love story with different people. Here is everything we know about it.
Is Joe Exotic Gay?
On the show, it was revealed that Exotic is an openly gay man with an array of lovers. He was also married several times and had a wild love life. 
Exotic has had five husbands to date. His first husband was Brian Rhyne, who the zookeeper met while working as a security guard at a gay cowboy bar. 
Rhyne was around 19 at the time when he first met Exotic. The two moved to the latter's trailer, where he had a couple of poodles as their pet. 
After their wedding, Exotic opened his infamous zoo with Rhyne. Unfortunately, Rhyne died in 2001 because of AIDS.
After Rhyne, Exotic met an events producer named Jeffrey Charles Hartpence, best known as J.C. It is not known if J.C was gay like Exotic or was bisexual. 


Joe Exotic poses for the camera (Source: Instagram)
J.C helped Exotic bring his zoo to the limelight. He organized events like magic shows and petting tiger cubs. 
It is also unknown what J.C was to Exotic. Several tabloids refer to them as husbands, while others call them life partners. 
There would be no information about the couple's wedding ceremony if they were married. Regardless, J.C was an important part of Exotic's life. But things took a dark turn after the two developed bad blood. 
J.C allegedly wanted the zoo to be a rehabilitation center, but Exotic wanted it to breed big cats. The arguments between them led to J.C holding two guns to Exotic's head when the latter was asleep. 
He asked Exotic to leave their zoo, but fortunately, the latter took him down. He called the police, and J.C was arrested. 
Exotic's third husband was John Finlay, who was hired in 2003 to run the zoo and its roadshow. He stayed with Exotic for over a decade and had "PRIVATELY OWNED BY JOE EXOTIC" inked on his abdomen.
In 2014, Exotic married Finlay and another gay man named Travis Maldonado. They had a three-way wedding ceremony where they tied the knot. 
But Finlay was done with Exotic's gay lifestyle and wanted a way out of it. So less than a year after the wedding ceremony, he got out of the relationship. 
Finlay is not gay but bisexual. After Exotic, he married a woman and had a child. 
Maldonado remained married to Exotic until his accidental suicide in 2017. He accidentally shot himself at the zoo's gift shop. 
After Maldonado, Exotic took to Tinder and Grindr to find love for himself. That way, he discovered his fifth husband, Dillon Passage. 
They had a wedding ceremony two months after Maldonado's death. But the pair did not get to live their married life properly. 
Exotic was paranoid, thinking he was being followed and someone was after him. Shortly after, he was arrested for the attempted murder of Carole Baskin. 
After his arrest, Exotic relationship and marriage with Passage fell apart. The two filed for divorce, but it has not been completed yet. 
TMZ reported in July 2021 that Passage had a new boyfriend named John. The pair have kept their relationship private, but Passage said that his boyfriend was his rock who helped him get through things. 
Is Joe Exotic Still Married?
Technically, Exotic is still married since his divorce with Passage has not ended. However, it has not stopped him from exploring his gay lifestyle and getting a new boyfriend. 
It was revealed in Tiger King 2 that Exotic had a new beau. He opened up about Seth, who he had never met but shared a "pretty strong connection" with. 
Exotic described Seth as a "dead gorgeous man" living in Arkansas. Since they could not meet each other, their only form of communication was virtually or through the phone. 
Exotic revealed that the two "talk 15 times a day." However, he did not say if he was in love with Seth or not. 
But the latter, on the other hand, dropped the L-Bomb. He was first introduced via Exotic's Instagram account. 
Seth confessed he was not a big social media person and wanted to keep it as such. This was because he was "not ready to deal with all the following that comes with being in love with Joe."
He confirmed that his relationship with Exotic was indeed real, and he supported his boyfriend completely. However, it seems like their relationship did not last. 
Seth had several pictures of himself on Exotic's Instagram, but they are no longer there. Since Seth is private on social media, we don't know if he has posted anything about Exotic there. 
Even if Seth and Exotic have parted ways, it can be said that the latter would seek another partner. The openly-gay zookeeper has dreamed of being in love, a wedding ceremony, and enjoying life. 
He admitted he wants to spend his life with someone who could "take a relationship serious and be in love and enjoy this ride."
Therefore, it seems like Exotic will have a new boyfriend soon if he does not have one already after his latest breakup.